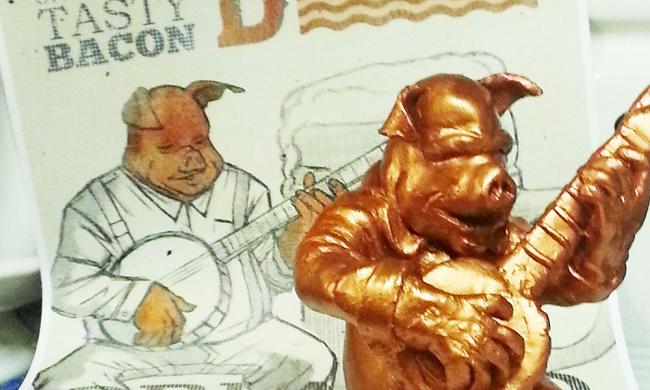 Bacon-tastic!
Let's start off by saying that I, like TodaysOrlando.com blogger Diana, was over-the-moon excited about Festival of Bacon for months leading up to this past weekend's event. The minute I heard about it, I couldn't contain my excitement. I told EVERYONE about it. What better thing to do on a Saturday in Orlando than go to a festival dedicated to this versatile pork product? It's like tailgating times 10, without having to yell and scream at a football game afterward (though, to be honest, I love to do that on a Saturday in Orlando too. Go Knights!!).

I arrived at Orlando Festival Park around 12:30, and was immediately overwhelmed by the parking situation. All the lots around the festival grounds were packed. I started to get nervous that my friend, who has a disability and hard time walking distances, wouldn't find a spot close enough, but we got lucky with a paid lot right next to the event. Problem solved!

Once through the gate, we got in line to purchase our Bacon Bucks, the official currency of Festival of Bacon. Here was challenge #2 — the currency exchange only accepted cash. In the age of Square, I feel there's really no excuse to not accept plastic, but the bacon masters set up ATMs at the entrance of the event for my convenience. Thanks!

It was a hot, HOT day, and I was parched. Before I could fully enjoy the salty goodness of the festival I had to get a beverage, and I wasn't disappointed in the selection, that's for sure. There were bacon dishes everywhere, but equally as many alcohol vendors. Jägermeister, Jim Beam and other vendors provided bacon cocktails. One of my favorites was the bacon beer from Shipyard Brewing Co. – a flavorful beer with bits of bacon infused in it.

Now, for the moment I had waited for — sweet bacon consumption! I couldn't get to the first tent fast enough. Bacon burger sliders, bacon cupcakes and confections, bacon tacos, and several stands just handing out slices of bacon — it was great! I spent the majority of my time in the free bacon lines. There were little stands in multiple locations that handed out a slice of bacon to everyone who could make it to the front of the line, and I did just that. Several times.

 

Free bacon! Just get in line and get a piece!

 

By far the best part of the event was the candied bacon ice cream. A-maz-ing. The ice cream had the sweet, slightly salty flavor of maple, brown sugar and vanilla bean, similar to that of butter pecan ice cream. And there were little crunchy bacon bits mixed in at just the right proportion, offsetting the sweetness. I wish I could have bought a gallon.

 


The ice cream was a little soupy, but sooooo good!

 

Even if you weren't standing in line for bacon or consuming bacon or drinking a bacon beverage, there were lots of other aspects of the festival to enjoy. There was mechanical bull riding and a DJ playing party music on the west side of the grounds. If you were too hot to dance you could play oversized Jenga or grab a snow cone to cool down. There was a bounce house and giant inflatable slide for kids, which were awfully popular with the 8 and younger crowd. Under a big tent in the back was a large projector screen showing college football, which was a truly brilliant and generous move on the part of event organizers. After all, it is football season.

 

 

On the east side, buffered by a line of trees (hallelujah shade!) and rows of vendors, was a stage with live music. Several acts played, but I was especially excited to see Ben Prestage. The one-man band played a couple of drums with his feet, the guitar, and a harmonica, as well as sang. His folksy bluegrass music was a nice contrast to the club scene on the other side of the festival.

Overall, it was a great time. My friend had plenty of opportunities to sit and rest on hay bales strewn about, and we both left happy and full. For anyone hoping to attend this event next year, here are a couple Pro Tips:

Sunscreen: There was shade, but not a lot.
Bring cash: The ATMs were great, but I heard rumblings they weren't working the whole time. Also, parking lots were only taking cash.
Prepare to wait in line: I was a little disappointed in the number of food vendors compared to non-food vendors. I think more food vendors would have made the lines shorter.
Hydrate: All that delicious bacon and hot sunshine will really make you thirsty.

You better believe I'll be ready for next year.

 

Looking for more awesome fall festivals?

There is so much going on in Orlando in the fall. TodaysOrlando.com's Events section is full of awesome opportunities, and here are some of the highlights:

Epcot Food and Wine Festival: Presented by Chase, this festival features sweet and savory tastes from around the globe, more than 270 chefs, over 300 national and international wines, and 138 concerts!

Winter Park Autumn Art Festival: An art show featuring Florida artists, their work, live entertainment, vendors, and workshops for children. And it's free!

Central Florida Veg Fest 2013: A day of vegetarian vendors, family-friendly events, and nutritional fun at Orlando's Festival Park (where Festival of Bacon was held). Great for those looking to detox from all that bacon-y goodness.
 

Guest blog courtesy of Kate Groeneveld, a contributing writer and all-around TodaysOrlando.com team player.