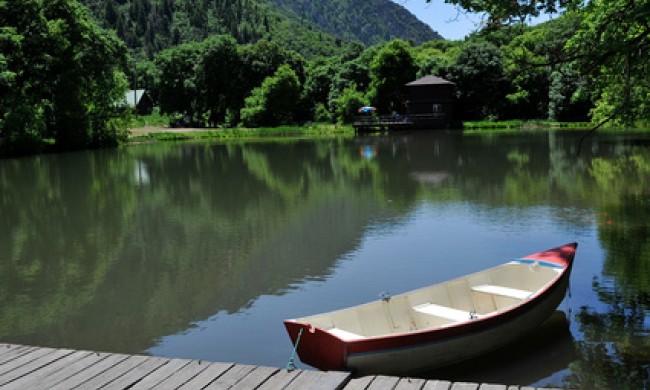 The Best Summer Camps (That You Never Went To)
Attending summer camp was a rite of passage for kids growing up in the late 20th century. It offered an opportunity to make new friends while getting active and experiencing the outdoors. The kids that weren't fortunate enough to experience it in person had an endless supply of summer camp films to show them what they were missing out on. Many of those movies featured coming-of-age adventures involving R-rated shenanigans, wiseacre camp counselors and soft-core nudity - with the occasional mass-murdering psychopath thrown in for good measure. It was the kind of glorified awesomeness that never really happened at actual summer camps. With summertime around the corner, let's get in the mood by revisiting some of Hollywood's most outrageous fictional summer camps ... that no one ever went to.

 

Camp North Star (Meatballs, 1979)

In his first film role, Bill Murray plays Tripper Harrison; a wise-cracking head counselor who takes shy, young camper Rudy under his wing in preparation for the annual Olympiad against the rich camp across the lake. After giving a rousing speech, Tripper encourages Rudy to lead the camp to victory over the snobs at Camp Mohawk, who, presumably, went home defeated and cried into a pile of cash. The film inspired three sequels, while Murray and Camp North Star only appeared in the first. Part two actually had a subplot involving an alien staying at the camp, while Meatballs 3 featured Patrick Dempsey as a grown up Rudy. The fourth installment starred Corey Feldman. The less said about that one, the better.

 

Camp Crystal Lake (Friday the 13th, 1980)

This camp gets you one degree closer to Kevin Bacon, before he gets (SPOILER ALERT) stabbed through the neck with an arrow by hockey-mask-wearing monster, Jason Voorhees. Actually, Camp Crystal Lake shouldn't really qualify as one of the best fictional summer camps since most of its campers got murdered. However; most of them got lucky first, so that should count for something.

 

Camp Kikakee (Ernest Goes to Camp, 1987)

Many children of the 80s have a soft spot for Ernest P. Worrell. The late Jim Varney portrayed Ernest as an innocent man-child in an earnest way that came off as sympathetically sweet if not borderline saccharine. His character was a good guy, albeit clumsy as hell. As a wanna-be camp counselor assigned to a group of troubled teens, Ernest finds a way to reach them through a montage of painful and humiliating accidents; like falling off a roof or getting hit in the face by a brick. In the end, the reformed street punks accept their buffoonish mentor and use their delinquent skills to beat the evil construction company determined to tear down Camp Kikakee. Know what I mean, Vern?

 

Camp Nowhere (Camp Nowhere, 1994)

The only rule at Camp Nowhere was: there are No Rules! Really, even jorts were allowed. The premise followed a group of kids that decided to create their own summer camp in an effort to avoid being sent to stricter military, fat and drama camps by their mean, stupid parents. It's got everything kids love; fart jokes, lying to adults, and Jessica Alba in her onscreen debut! Christopher "Doc Brown" Lloyd plays a teacher blackmailed into posing as Camp Nowhere's head counselor to complete the ruse. Ultimately, the kids learn a valuable lesson as they realize that Camp Nowhere became a real camp where kids can be who they want to be, alright Dad? I'm not you, okay? I don't want your life!! Whoa, sorry about that.

 

Camp Hope (Heavyweights, 1995)

This Disney gem stars Ben Stiller as intense motivational weight-loss guru, Tony Perkis. In a performance eerily similar to his character in Dodgeball, Stiller takes over a fat camp and forces the chubby campers into strict diet and exercise routines in the hopes of promoting the results on an infomercial for his fitness plan. Sounds like a big, fat bummer until the kids naturally revolt, take over the camp and eat everything in sight. Starring the three tubbiest Mighty Ducks, (including a young Kenan Thompson and Goldberg the Goalie!) this camp is TONS of fun! See what I did there?

 

Camp Firewood (Wet Hot American Summer, 2001)

This is the most awesomely bizarre camp on the list. Featuring a blockbuster ensemble of actors including; Paul Rudd, Bradley Cooper, Amy Poehler and Elizabeth Banks, this hilarious spoof on 80s summer camp comedies comes from the mind of David Wain. One of the founding members of the comedy troupe, The State, Wain rounded out the cast with most of his former sketch comedy costars. This camp movie has it all; slacker counselors, a training montage, a high-speed chase, David Hyde Pierce and a run into town that dangerously escalates into mayhem. It's wildly hilarious and worth a visit, if only for Christopher Meloni's veteran cook, Gene and his talking can of vegetables.

 

Honorable Mention:
Camp Anawanna (Nickelodeon's Salute Your Shorts, 1991)

This early 90s TV series had the opportunity to explore life at a summer camp in a more in-depth way than any other camp on this list. Over the course of two brief seasons, viewers were introduced to the drama and antics of Michael, Telly, Donkey Lips, Sponge, Z. Z., Pinsky, Budnick, Dina and Camp Counselor "Ug." The show's colorful cast of characters each represented a Breakfast Club of personalities that one could find around any campfire. Like any real summer camper, they loved, learned and bonded over marshmallows and mosquito bites. For that, we salute you.