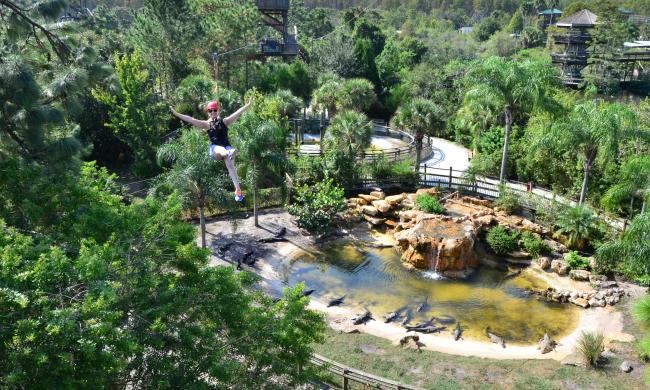 Go Gators!
It's great, to be, a Florida Gator! I said it's great, to be — OK you get it. :) And if you're a gator at Gatorland, you're real lucky. Those babies get fed a hundred times a day and never ever have to worry about ending up as a purse. The boys are the luckiest of the lucky, because the breeding marsh has 3.33 females for every one male. Figures.

Hands-down the best way to see Gatorland is the Screamin' Gator Zip Line. My TO teammate Jessica strapped on a helmet and harness with me to experience the world-famous park in the coolest way possible — from heights up to 65 feet and speeds up to 30 mph. No, the fall probably wouldn't kill you, but as you landed in the murky water filled with aggressive crocodiles and/or alligators, you'd most likely be ripped limb from limb and die a gruesome, agonizing death. Reason No. 1 why the zip line is so stinkin' exciting!

When it comes to things to do in Orlando and Orlando attractions, Gatorland has been a favorite for years and years and years. It's popular with tourists and locals, and is one of the oldest attractions in Central Florida. Some might even call it prehistoric. (Ha! Get it?)

After walking through the famous gator mouth entrance, Jess and I headed to the zip line building, where we met our guides and fellow zip-liners. Safety is the No. 1 priority, and you're assured almost all of you will make it back unscathed. Now throw on your gear, and let's go fly over one of nature's deadliest creatures!

 


Gatorland's Screamin' Gator Zip Line — 1,200 feet, more than seven stories high, 30 mph, Cuban and Nile crocs, 130 gators in the breeding marsh, and 98% awesome. (I deducted 2% for the trek up the first tower.)

 

The first tower is a loooong walk to the top. There's no shame in being winded when you're done with all those stairs. No shame at all I tell you!

The sign at the top clearly indicated only one person that day had been maimed/killed. Still decent odds though.

Those most terrified were required to go first. This included a boy about 8 who was near tears, and his NFL-body-type father who had been dragged kicking and screaming by his teeny, tiny, spunky wife and 10-year-old son.

The first launch ramp is a sharp decline, so you don't have much time to prepare, just one step and Byyyyeeeeeeee you're sailing to the next tower! Words can't express how priceless the 8-year-old's face was as he went from sheer horror and terror to absolute glee. Not Dad. He remained terrified through all 1,200 feet of zip-lining.

The views are awesome as you sail from tower to tower — alligators and crocs beneath you, salivating at their deadly mouths and praying your harness breaks — then cross the rickety bridge (emphasis on rickety) over the breeding marsh with 130 gators, and finally race your friend or relative to the last tower. So. Much. Fun!

Our guide Dave was seriously awesome. He gave a history lesson and shared all sorts of fun info at the top of each tower. We learned about Gatorland's residents, including the ginormous Pops, who's been in more than a dozen TV shows, documentaries, movies and commercials. You may know him from his starring role in Lake Placid (he walked the red carpet at the premiere!), and he was featured on Orange County Choppers, Pet Psychic and Jurassic Park (he was the voice of the T-Rex). He's also infamous for knocking birds out of flimsy trees and eating them in front of park guests. So cool.

 


Jess and I spent the rest of the day meeting Gatorland's residents up close. I'm pretty sure we made some forever friends.

 

After the zip line, Jess and I spent the next few hours touring the park. We saw the gator wrestling show and rare leucistic "white" alligators (don't call them albino!), fed the gators turkey dogs (you HAVE to try it), and were on the receiving end of some very large, aggressive goats that practically climbed out of their pen, horns flailing away. Gentle as can be when you're feeding them, but my goodness they know how to get your attention.
In all my years living in Florida, this was by far the most fun I've had at Gatorland. And I have always loved me some Gatorland. It's a great half-day Orlando attraction, and I can't be the only one who's obsessed with how scary/awesome/amazing alligators are, whether they're up close or 60 feet below you. It's decided. A season pass is definitely in my future.

 

I survived! Now I'm hungry ...

If you want to grab something to eat, Gatorland has some yummy options, and even serves beer. Or you can head over to nearby Restaurant Row and pick from one of the 80+ options, including ...

O'Charley's Restaurant + Bar has served premium steaks, burgers and sandwiches since 1971.

Bento Cafe offers trendy, affordable sushi and Asian cuisine.

Miller's Field has more than 50 high-definition TVs and serves all-American dishes and drinks.