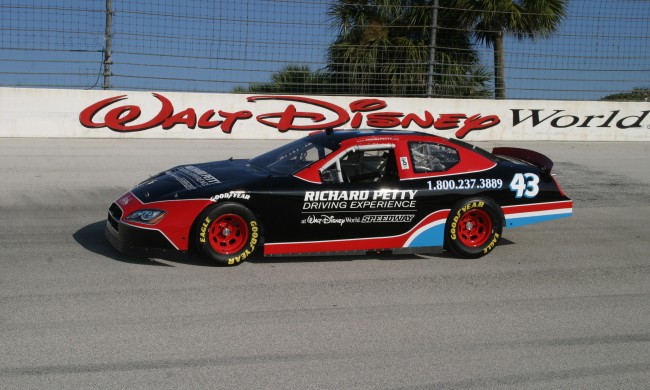 The King and I
Rubbing is racing, or so Cole Trickle would have us believe. However, this is not Days of Thunder and I'm no early-90s Tom Cruise. Like everyone, I'd like to believe that I'm a decent driver. However, I can admit that at times I can be reckless behind the wheel. I'm impatient, I get road rage, and like Ricky Bobby before me, "I wanna go fast!" So when the opportunity arose for me to satisfy my need in a safe and controlled arena here in Orlando, I figured why not? Either way, I'd get to cross-off at least one of two unfulfilled items on my bucket list: riding in a race car at excessive speeds or slowly walking away from an explosion. Luckily for everyone, I was going to be riding shotgun.

My Richard Petty Driving Experience got off to a fast start. Shortly after arriving at the massive Walt Disney World® Speedway, I suited up and slid into the stock car like one of those rascally Dukes of Hazzard boys. As the ignition turned and the engine crackled, I suddenly felt another need – a need for a bathroom. But there was nothing I could do about that now. I was strapped in and committed, and unlike my parent's minivan on road trips, there wasn't an empty Gatorade bottle rolling around. So I held it like a pro and smiled for the camera.

Each car is equipped with both racetrack and rider-facing dash cameras that record each angle of the ride. Riders are given a USB stick to capture their experience resulting in a high-quality Experience Video with picture-in-picture display to share with family and friends. Keep in mind that the helmets are mic'd, just in case you feel the need to scream like a baby or curse out of excitement. Fortunately, when I curse I actually say the word "Bleep!", so I was already good to go.

The vehicle vibrated as we accelerated. My hands gripped the inside of the door tighter as the driver inched the gas closer to the floor. My heart pounded as it was rushed with adrenaline.
 

We were now approaching 30 mph.  

We sped up: 80 mph, 100 mph, 130 mph. I felt like I was going in circles until I remembered that I was. On the turns we tightly hugged the inside lane to keep the car from drifting up the steep angle of the track. My body leaned left, but the centrifugal force pulled me towards the right. It's almost like the car was being magnetically drawn to the outer wall — like they wanted to meet. But my driver, Bob, had control. His right foot eased on and off the gas with the rhythm of a stomping Mumford and Sons drumbeat. And boy, was it LOUD!

 

Bad Boys 3: Wingmen For Life

 

You see, like most qualified drivers at Richard Petty's Driving Experience, Bob has 30 years of racing experience under his belt. Off the track Bob drives a pickup truck, but on the job he gets to race exotic cars. After pulling into the pit, I was informed that my next ride would be part of the Exotic Driving Experience. Suddenly, a canary-yellow Lamborghini pulls up – the kind you would see a supermodel stepping out of in front of a Miami nightclub. Bob and I sped off like two ballers heading to the strip. This immaculate vehicle offered a smoother, quieter ride as we rocketed down the track like a bullet — advancing to speeds north of 115 mph! Riding in the "Lambo" reminded me of the movie Bad Boys; obviously making my next move to call dibs on Will Smith. Nailed it. For the first time that day, Bob was too slow! It was an amazing experience and an awesome end to my first day of coverage.

 


Oh, yeah! This was the moment when the Ferris Bueller theme song started playing.

 

The next day, I returned to the track to watch the King's Cup Tournament with Mr. Petty in attendance. The King's Cup is an opportunity for racing fans to get in on the action. The tournament consists of timed and scored events held at Walt Disney World® Speedway — the home of Richard Petty Driving Experience. Participants in the King's Cup each race stock cars, exotic cars and go-karts in competition for the King's Cup trophy. The event includes an Experience Video, photo, lunch and a meet-and-greet with The King himself! Richard Petty, nicknamed "The King", is most well known as a seven-time NASCAR Championship winner. He is also known as the spokesperson for Goody's headache powders — which I swear by — so meeting him at his annual tournament was a pretty big deal for me.

 

The King and I talking fancy, feathered hats and Goody's Headache Powder.

 

When I asked about the Richard Petty Driving Experience and what he enjoys the most about it, The King mentioned his youth. "It's something that I loved growing up," he said, "so it feels good to give others the same opportunity." I have to agree. This experience is perfect for younger fans of NASCAR and the Disney/Pixar Cars films. I witnessed the faces of the kids in attendance light up with excitement in anticipation of riding in a race car. This was truly a dream come true for them. A dream that their parents, Disney and the Richard Petty Driving Experience made possible. Like the sign says at the entrance: Drive Your Dream.

After a few exhilarating laps around the track, my car ride home felt like I was going 5 mph. But it was ok. I had already driven my dream.

 

Got the Need for Feed?

If you're like me and work up an appetite behind the wheel at the Richard Petty Driving Experience, you can stop by these on-property restaurants afterwards for some post driving grub.

If your heart is still pumping after your race, visit Downtown Disney's House of Blues where the music of the soul pumping just as hard.

Keep the race going at ESPN Club at Disney's Boardwalk. You can watch your favorite sports events, dine on American food, and enjoy drinks at this sports bar and restaurant!

Wind down with a few drinks at Raglan Road Irish Pub & Restaurants at Downtown Disney. This authentic Irish bar offers top-notch entertainment, food, drinks and service. Just make sure you've got a ride home, because after a few of their famous pints, you'll be done driving for the day!