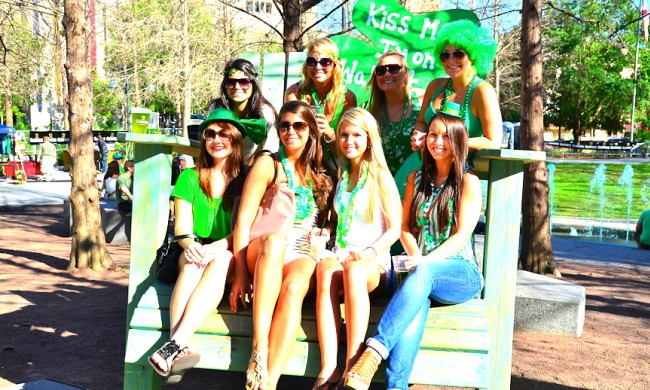 St. Patricks Day Block Party
Mar. 15 at 5pm; Mar. 16 at 3pm; Mar. 17 at 12pm

at Wall Street Plaza

Look for Wall Street Cantina on Orange.
26 Wall St., Orlando, 32801
Celebrate St. Patrick's Day with three days of events at Wall Street Plaza in Downtown Orlando. Locals and guests can listen to live music, take advantage of Irish drink specials, participate in live entertainment, and join in a celebratory and social atmosphere. Wear your best green and come out for an exciting party scene from Saturday until St. Patrick's Day on Monday. Enjoy great deals on drinks all three days.

Saturday, March 15
Starting on Saturday, March 15th at 5 p.m., Wall Street Plaza will be having their St. Practice Day Party. They'll be kicking off the weekend with live music from OFD Pipes & Drums, Off Kilter, The Lighter Exchange, and more, with drink specials all night.

Sunday, March 16
For Sunday Funday St. Pat's Style on March 16th, head over at 3 p.m. for a St. Patty's Party as Wall Street Plaza serves up green beer, leprechauns, and all things Irish. There will be no cover on Sunday.

Monday, March 17
The St. Patrick's Day Block Party starts on March 17th at 12 p.m. There will be live tunes from the Pipes & Drums, Off Kilter, The Lighter Exchange, & 7 Nations! Keep your eye out for the Leprechaun and his pot of gold.

Drink Specials
$5 Guiness Pints
$5 Irish Car Bombs
$5 Jameson Irish Whiskey

You must be 21 and older to party. The St. Patrick's Day Block Party will be held at Wall Street Plaza. For more information, view their profile page.

Get great tips and tricks on how to have fun this St. Patrick's Day in Orlando.
Upcoming Events
that also might interest you