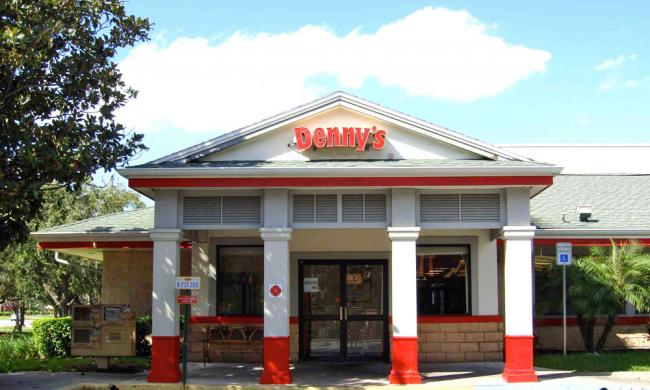 Denny's - Lake Buena Vista
Between Olive Garden and Black Angus Steakhouse.
12375 State Rd. 535, Orlando, FL, 32836
Hours
of Operation

Sun - Sat:
12:00 am - 12:00 am

Profile

Overview

Denny's is America's diner, serving traditional hearty breakfast plates, juicy burgers, and brewing fresh coffee. Open 24 hours, this Lake Buena Vista restaurant is always ready to serve guests.

Denny's serves breakfast, lunch, and dinner. Their breakfast options include pancakes, build-your-own omelettes, skillets, and even steak & eggs. For lunch, enjoy their salads, burgers, and club sandwiches. Dine on some down-home entrees for dinner including country fried steak, chicken tenders, pot roast, or spaghetti and meatballs. Meals are available every hour of day.

Before you eat your main entree, order up one of their zesty appetizers like Smothered Cheese Fries, or save some room for a delicious diner dessert, like milkshakes, Hot Fudge Brownie a la Mode, or a banana split.

For healthier options to fit your diet, check out their Fit Fare®. The Fit Fare® menu also includes great senior options, or you can look at their full 55+ menu. For children, check out the kid's menu with fun options like Build Your Own Jr. Pancakes and Mac n' Cheese.

Get a free Grand Slam® on your birthday by showing a valid ID with your date-of-birth.

Kids eat free between 4 pm and 10 pm. Restrictions may apply. Ask your server for details. Days of this offer may vary.

Denny's is located just north of the Crossroads shopping plaza outside of Disney.