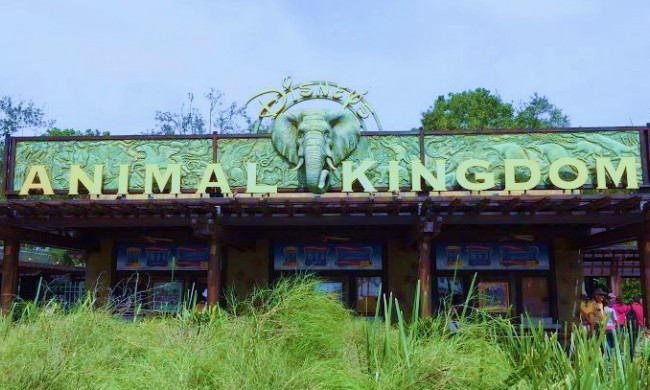 Big (Blue) Changes Heading to Disney's Animal Kingdom
Remember Avatar? No, not The Last Airbender, the one that was kind of like FernGully with tall Smurfs? Yeah well, Disney hopes you remember them as they're in the process of spending a lot of money to remind you of the groundbreaking, $760-million-dollar-grossing film that nearly won Best Picture in 2009. Speaking of ground breaking, earlier this year Disney Imagineers did just that on an Avatar-inspired land in the largest expansion in the history of Disney's Animal Kingdom. However, in an ironic twist similar to the themes of the film, some of the theme park's natural inhabitants have been relocated to make way for Avatar's construction. That's right; someone's Gully just got Ferned.

The collateral damage I'm referring to is Camp Minnie-Mickey. Long-time attendees of Animal Kingdom are fondly familiar with this sleepy section of the park. Nestled in a cozy, tree-covered area near the park's front, Camp Minnie-Mickey was home to only a handful of attractions. Its crown-jewel being one of the most celebrated, interactive, musical stage-shows any Disney park has ever produced: The Festival of The Lion King.

 

Festival of the Lion King image courtesy of Disney World.

The Festival of The Lion King premiered with Animal Kingdom's grand opening in the spring of 1998 and remained in production for the next 15 years with minimal changes. It didn't need to change. It was perfect. Housed and performed in the round, it combined a mix of live singing, dancing, trapeze-swinging, stilt-walking and fire dancing all set to the wildly popular Elton John songs from the film. The theater itself was a Circle of Life and love that brought joy to every visitor, cast and crew member over the years.

Some of that same cast and crew (they refer to themselves as FoLKs) reunited in early January for the final show before The Festival of The Lion King was put on a six-month hiatus for relocation. The Avatars weren't the only ones who were blue that day (Double Meaning!)

 

 

That's the magic of Disney, FoLKs! Their shows create lasting memories and bring people together not only as cast members, but as family members as well. Literally! My brother met his wife while they both worked at The Festival of The Lion King. The attraction helped ignite their attraction as he stilt-walked his way into her heart.

Late last year, I made a point to visit The Festival of The Lion King with my family one last time in its original theater. I had the opportunity to see my daughters' faces light up as they danced, laughed and sang-along to a magical part of Disney history – before it became history.

As I mentioned, The Festival of The Lion King is not gone for good. While Camp Minnie-Mickey is no more, The Festival of The Lion King is being moved to a proper home in the Africa section of the park. Its new state-of-the-art theater is currently being built as part of a larger park expansion that will also include a new evening spectacular, as well as a nighttime version of Kilimanjaro Safaris. The Festival of the Lion King will resume production by the end of summer 2014, while completion of the larger expansion – including Avatar Land – is expected for late 2016.

 

Avatar Land concept rendering. Image courtesy of Disney Parks Blog.

The construction of Avatar Land is being timed with the release of three sequels to the original film. With director James Cameron currently in pre-production, the sequels are scheduled to shoot back-to-back-to-back and will be released in December of 2016, 2017 and 2018, respectively. Hopefully, these sequels will generate enough excitement to support a theme park expansion of this size — one that is currently based off a 5-year-old film that most have forgotten.

 

Avatar Land concept rendering. Image courtesy of Disney Parks Blog.

It is my sincerest hope that the Avatar expansion will add as much magic and excitement as its predecessor and become the breathtaking, must-see attraction that the concept renderings promise. After all, the film offers the lush and vibrant world of Pandora to draw inspiration from.  Planned attractions for Avatar Land include a flying banshee simulation ride similar to Epcot's Soarin' and "a rich natural environment with mountains that float and interactive plants that glow at night," according to Disney Parks Blog. I trust the creativity of Disney's Imagineers to present a world that's more Avatar and less Avatarded.

Just as the poet Robert Frost once famously wrote, "Nothing Gold Can Stay," such is the Circle of Life of a Disney theme park attraction. It is a business, after all. So don't cry for Simba. Instead, visit Orlando, go to a Disney Park and soak up as many memories as you can before the sun sets on one of your favorite attractions.

Best of luck, Avatar.

Stay gold, Lion King.