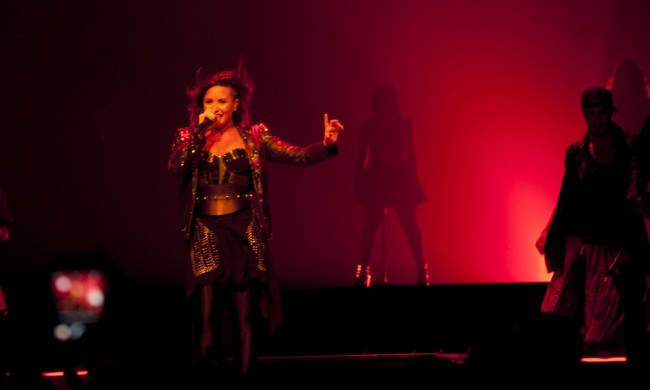 Demi Lovato Lights Up Orlando
Demi Lovato's World Tour rolled into Orlando's Amway Center this week. The "X-Factor" judge, actress and singer delivered an edgy show with bold performances of her hits, "Really Don't Care," "Skyscraper," "Fire Starter," and "Give Your Heart a Break."

Unlike some of her former Disney Channel stars who have transitioned into adulthood with less grace (*cough* Miley Cyrus *cough*), Lovato embraces her responsibilities as a role-model and offers songs with a message of inspiration, empowerment and hope.

Parents accompanying their tweens can rest assured that there will be no uncomfortable foam finger grinding at this show. The only thing that could induce a "Heart Attack" would be the rush of excitement when Lovato launches into her hit single of the same name.

Lovato is supported by opening acts, Christina Perri and pop duo, MKTO.
 

Singer-songwriter, Perri rose to fame with her chart topping, "A Thousand Years" for the film The Twilight Saga: Breaking Dawn Part 1, performed with an infectious enthusiasm. Actors and former TeenNick stars, Tony Oller and Malcolm David Kelley comprise boy band, MKTO. Formed in 2013, the group is promoting their self-titled debut album with their single, "Thank You."
 

Speaking of Kelley, he looks familiar. Where have we seen him before?

 

 

Quiet Michael, we're trying to think.

 


 

Nevermind, I'm Lost.