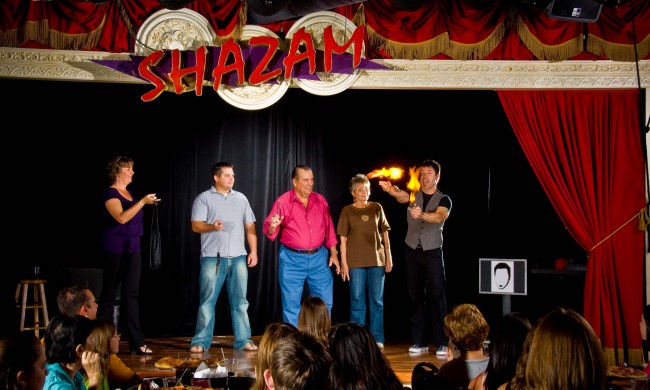 Do You Believe In Magic?
Florida has a bit of a reputation for craziness. We can't figure out how to vote correctly, we have tabloid-esque court cases, and instead of getting out the way of hurricanes, we throw parties! As if that wasn't enough, we roll out the welcome mat each spring and invite people as wacky as us from all over the country for Spring Break! If Florida is Crazy Land, then Orlando's Outta Control Magic Comedy Dinner Show is its capital, because host Tony Brent is one wild and crazy guy!

Located inside WonderWorks – the most insanely iconic, upside-down structure in Orlando – the Outta Control Magic Comedy Dinner Show is an experience that is hard to categorize. Voted Orlando's Best Dinner Show in 2009, the show blends a mix of music, improv, magic, impressions and wonder.

 


Did somebody say, "Wonder?" (Explosion!)

 

My favorite trick (I mean, illusion) is when Tony asks an audience member for a $100 bill, performs some quick slight-of-hand and makes it vanish before the participant's eyes. With flair, he points to a random member of the audience across the room and wildly declares that the bill has jumped into his pocket. The guy stands up to reveal he is wearing cargo pants with like eight pockets. Two full minutes later, after slowly turning out all of his pockets and dramatically raising the tension and anticipation in the room, the guy comes up empty-handed to which Tony responds "Would've been cool, right?" The vanishing Benjamin was, of course, up his sleeve all along.

Tony revealed what else he had up his sleeve when I spoke with him after the show. Off stage, he was much more relaxed than his outta-control persona. When asked what got him into comedy, Tony spoke about his start working at Magic Kingdom's Main Street Magic Shop. Then he opened up about a subject very dear to his heart. He relayed that he was bullied as a child and, like many comics before him, jokes were his form of self defense. In fact, Tony performed a reduced schedule during the month of February so that he could focus on an anti-bullying project. His project includes several speaking engagements that address the bullying epidemic in our nation's schools and incorporates some of the music, magic and mayhem found in his act.

Named Orlando Magazine's Best Local Entertainer in 2013, Tony Brent is a true showman whose act is never the same. He feeds inspiration off each audience differently. An audience member's shirt or the town they are from can ignite a running gag that carries throughout the show. His stream-of-consciousness flow from one joke, character or trick (sorry, illusion) to the next reflects shades of Jeff Dunham mixed with the ADD of Carrot Top in his prime. Tony Brent isn't working with a full deck, and that's a good thing!

The show had my daughters dancing in the aisle with its infectious energy and awesome soundtrack. Although, I would have loved it if they had worked in a nod to Europe's The Final Countdown like in the hilarious Arrested Development; I'm pretty sure I haven't heard Coolio's Gangsta's Paradise in a decade, so that was a welcomed treat.

 

No Final Countdown?! C'mon!

 

Tourists, families and spring breakers visiting Orlando will love this interactive, rock, comedy show. Not only can audience members volunteer to be participants in the show, but they also enjoy unlimited beer, wine, soda, pizza, salad and popcorn! That's right, all-you-can-drink beer and wine, and the table-side service keeps the cups full during the entire show.

WonderWorks' prime International Drive location is ideal for those planning to end the night down the street at Howl at the Moon or Señor Frog's. The Outta Control Magic Comedy Dinner Show is a wild place to kick off an even wilder night in The City Beautiful!