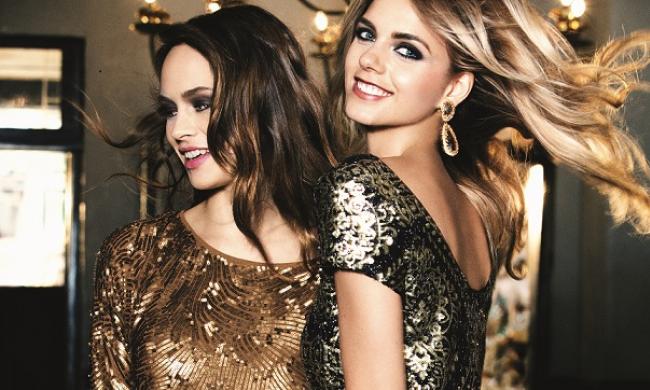 I Have Nothing to Wear!
You have the venue; you have the date to kiss at midnight; you have a bottle of your favorite champagne. But what in the name of Happy-New-Year are you going to wear?! Obviously you have to take into consideration the type of New Year's Eve celebration you're attending — is it a casual family affair at home? Cocktail party? Downtown extravaganza? Black tie event? Below are some do's and dont's for celebrating NYE in style, while still making sure it's your style. And come on, it's never too soon to start thinking about hem length and tie patterns!

For the ladies ...

New Year's Eve is one night you can get away with sequin and rhinestones and all that glitters is gold! Embrace the glitz and glamour and have fun!

Some Do's — Do choose a comfortable, breathable fabric that you'll be OK wearing into the wee hours of the morning. Do add a pop of color, whether it's your dress (gold, green, burgundy), jewelry (try an awesome statement necklace), or shoes. Do experiment with a long dress. If it's a cocktail event, black tie optional or black tie, throw on that floor-length gown with embellishments you've been eyeing at The Mall at Millenia.

Some Dont's - Yes, the evening can be all about the glitz, but don't forget to take into account your body type and coloring. Head-to-toe sequin doesn't look fabulous on everyone, but you can definitely rock a rhinestone collar or sleeves, or beaded accents. Don't forget to keep warm! Sure, Orlando isn't known for its snowstorms, but nothing takes the cheer out of Cheers! faster than someone shivering so hard she spills her champagne. Party foul. Throw on tights or choose a dress with long sleeves. There's lots of great l/s dresses that are fun and sexy.

Now, I don't blame you if you decide purchasing a fancy schmancy sequin or embellished dress is a slight waste of money. If it's a real showstopper, you probably can't/won't wear it again, especially to an event with the same people. Allow me to introduce you to one of my longtime BFFs (OK it's been two years) — Rent the Runway! Imagine the world's largest closet, and it's home to hundreds and hundreds of super expensive designer dresses, bags and jewelry, and every item is in your size. Oh, did I mention everything is 90% less than the original cost?! So instead of paying $400 for a statement dress no one will ever forget, pay $65 to rent the same dress for four days, take lots of fabulous pictures, and then mail it back (prepaid envelope for shipping is included!).

Rent the Runway has dresses for every occasion, but it's especially loved for its insane selection of cocktail and  special event gowns. This is the place to find a New Year's Eve dress. Trust me. I'm an experienced NYE Rent the Runway-er.

For the men ...

You should rock your own everyday style, but kick it up a notch or two. Here's your Don't — please don't wear baggy, faded jeans to a New Year's Eve party! Ok, if it's a casual at-home thing, that's fine. But if your significant other is wearing sequin or rhinestones, you want to match her level of classiness, right?

Dark, well-fitting denim is perfect for a casual event or house party; dress pants are usually the standard for anything cocktail attire or dressier. Not a suit and jacket kind of guy? Totally fine! Wear a fitted button-up shirt with a vest, even with your jeans. Throw on a bow tie to make the outfit even more memorable. Or, to really dress up your jeans, add a tux jacket.

You can never go wrong with a suit — nice shirt, matching jacket and pants, and great tie. Single- or double-breasted both work. But don't feel obligated to wear a tie. Wear a fun shirt that's an attention-getter all on its own. Don't be scared to mix and match! Everyone remembers the guy wearing a great plaid jacket with black pants and smaller plaid shirt. Add a simple tie, or go sans tie and button your shirt all the way up for a more unique look. 

If it's chilly, (which, OK isn't super likely Orlando) top off your put-together look with a great topcoat made from wool or wool-cashmere. Leather is also always a solid choice.

Whatever fashion statement you decide to make to ring in 2014, have fun, be safe, take tons of pictures, and rock the heck out of that midnight champagne toast! Happy New Year!