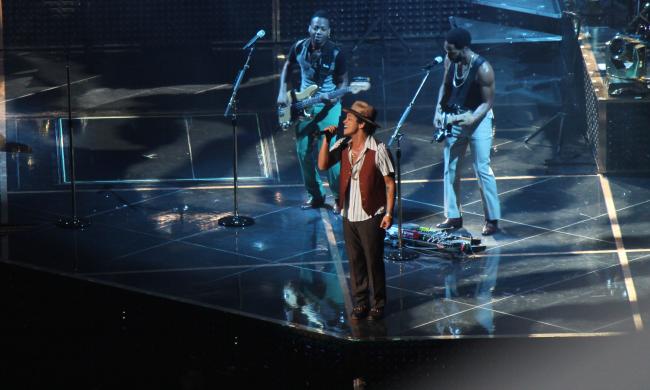 Just the Way He Is
Literally any event at the Amway Center downtown is fun. It's been how many years since Orlando's newest entertainment venue was built, and I still can't get over how gorgeous it is and how much there is to do. Sometimes I feel badly for the Orlando Magic or Orlando Predators, because sure the action on the court/field is exciting, but with the bars and restaurants and food options, there's lots of reasons to not be in your seat.

My most recent adventure at the Amway Center was not one of those occasions where I spent more time at Gentleman Jack Terrace than in my seat. For two reasons:

1. It was a concert. Bruno Mars' The Moonshine Jungle World Tour concert!
2. My "assigned seat" was a suite. A suite with food, soda, wine, beer and liquor. Eeeek!

 


Living the suite life! (OK, ya that's totally cheesy and overused, but I couldn't resist.)

 

I'll admit I was REALLY excited! First, let's be honest, Bruno has some catchy songs. Even if you don't love him, you know his songs, because they're on the radio all the time. All. The. Time. So not only was I seeing a pretty talented guy in person, but my "seat" was amazing, and my good friends at Levy Restaurants (that's who does the food and beverage at Amway) stocked the suite with one of my favorite Pinot Noirs. You see where I'm going with this. The night was awesome!

After dining on the buffet and pouring myself a beverage, I settled in to watch the opening act, Fitz and The Tantrums. Never heard of them? Me either. But they were really good — absolutely a group I would look into and maybe buy some songs on iTunes. Plus, the girl singer gets bonus points for wearing an Orlando Magic jersey.

 


Opening for Bruno Mars was Fitz and The Tantrums.

 

Then came Bruno Mars (real name Peter Gene Hernandez). That little guy is ridiculously good live! No, his show didn't have insane pyrotechnics, moving stage pieces, a harness so he could fly over the crowd, set changes, wardrobe changes (or malfunctions) — it was just a super talented guy with some other talented musicians, singing and dancing on a stage in front of a sold-out crowd at probably the nicest arena in the country. And that's what made this concert so great. Not the flamboyant stuff (which I'll admit I do love when it's the right performer. Looking at you P!nk and TSwift.), but the chance to see and hear some of your favorite songs live, sounding just as great as they do on the radio.

 


Bruno Mars definitely did not disappoint live.

 

Of course he performed most of his staples — Billionaire, Treasure, Marry You, Grenade, Just the Way You Are — I mean, does this guy have a single that isn't mega successful and played on the radio 1 gagillion times?!

The emotional part of the evening came when Bruno Mars performed When I Was Your Man, and admitted that of all his songs, this was the hardest to write and sing. I think he even got a little choked up! Meanwhile, I just wanted to scream "Oh my goodness, who was she?! Who was she?!"

His final song came with an insane explosion of gold glitter and thunderous applause. But wait! He didn't perform Locked Out of Heaven! Nooooo!

New trend alert — more and more artists are choosing not to have an encore. Crazy, right? It's such a concert staple. But at many of the concerts I've recently attended, the singer does his big finish, the house lights come up (a sure sign there's no encore), and everyone sits there confused wondering if they should really leave. Yep. You really should. Honestly, I kinda like the trend; but that's just me.

Thankfully, Bruno Mars did have an encore, and it did include Locked Out of Heaven. Whew! His final final song was Gorilla, which he recently performed at the VMAs.

To recap, Amway Center is great; Levy nailed the food and beverages; being in a suite is so absolutely crazy fun; Bruno Mars is awesome live — singing, dancing, playing the drums — all of it; his show doesn't have all the bells and whistles that some do, but that was more than OK; and basically every song he performed was a mega-hit, so there was never a dull moment. Of the many things to do in Orlando, this one definitely gets put in the "I am seriously one very luck girl" column.

If you want to view my complete Bruno Mars photo album, it's on my Facebook page — just click here. :)

 

After the Show ...

The show's over; you don't have to go home but you can't stay here. Now what? Church Street and all its offerings is just steps away. Have fun!

After a summer show, on a hot Florida night, Chillers has a wall of swirling frozen adult beverages to cool you off. It also has two bars above it, so keep climbing if daiquiris aren't your thing.

Harry Buffalo is a popular post-party venue. The food and drinks are  really good, and it's the closest restaurant/bar to the Amway Center. If you're a meat eater, you have to try a bison burger!

It's kinda tucked away, over to the right after you cross the train tracks, but Eternal Tap is definitely worth finding. It has craft beers and liquor, and downstairs is the very cool Whiskey Cellar.