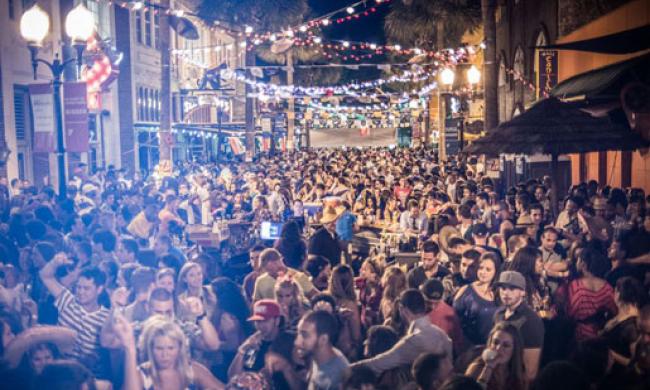 Orlando Celebrates at Wall Street
Cinco de Mayo, or the 5th of May, is celebrated annually in the U.S. and in some parts of Mexico. Historically, it is a day to recognize and appreciate the benefits of tequila, margaritas, Corona and its lower-calorie partner, Corona Light.

Alright. In the spirit of full disclosure, that last part might not be entirely accurate. So let us turn to Wikipedia, which focuses more on the historical aspects of the "holiday."

Originally a day to commemorate freedom and democracy during the first years of the Civil War, Cinco de Mayo is now a celebration of Mexican heritage and pride. But please don't confuse it with Mexico's Independence Day (Sept. 16), which is the nation's most important patriotic holiday. No, this is a very different day. For many, Cinco de Mayo has gone the way of St. Patrick's Day, Mardi Gras and Halloween for adults — it's primarily an excuse to partake in alcoholic beverages. I may or may not fall into this category.

In Orlando, there is no better venue for a block party than Wall Street Plaza in downtown Orlando. Anchored by eight (oh yes, count them, eight) bars, Wall Street Plaza also offers beer tubs and kiosks, as well as live bands and themed entertainment. The dead-end street is blocked off from traffic, so there's nothing but wide open spaces to wander from bar to restaurant to bar to bar to bar.

Cinco de Mayo festivities of course included the obligatory drink specials on the previously mentioned Mexican alcoholic refreshments. The margarita moonshine shot at Hooch definitely tops the list as the day's best beverage. There were also fun props to take pictures with, and plenty of guests decked out in what I can only assume was their idea of "Mexican attire." So yes, there was also plenty of people watching.

Block Parties for All!

However, Wall Street Plaza is no one-trick pony. Cinco de Mayo was good. Halloween is even better. St. Patrick's Day gets a great crowd, the Pub Crawl is packed, and the Beer Olympics is a can't-miss event. New Year's Eve? One word. Insane. Wall Street Plaza is Orlando's very own Times Square, only without the need for Port-O-Lets.

Most of the plaza's events kick off during the day and take place over the span of an entire weekend. In the case of Cinco de Mayo, which fell on a Sunday, the block party began Friday night, culminating with bull riding on Sunday evening. Mechanical, of course. We're all animal-lovers.

Most weekends you can party on Wall Street and hop to all eight bars with no cover, and on special event days like Cinco de Mayo those who arrive earlier in the day can avoid the cover charge. But really, what's $5-$10 when you're getting admission to eight (remember — eight!) bars. And most of the restaurants serve food, so it's very easy to make a day out of eating, drinking and celebrating.

Whether you live in Orlando or are visiting The City Beautiful, if you're in this fair city for any day that remotely resembles an occasion that needs to be celebrated, it's a pretty safe bet that you'll find fellow partygoers at Wall Street Plaza in downtown Orlando. Sure, not all holidays are created equal, but that doesn't mean they don't all deserve a block party.