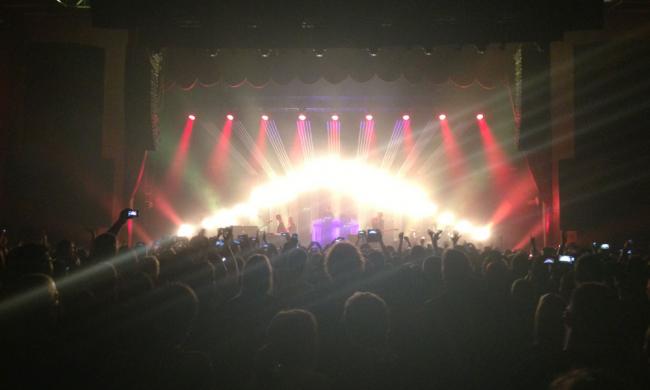 Postal Service Delivers at Hard Rock
The Postal Service concert at Hard Rock Live in Orlando can only be described as something ten years in the making. The Give Up fandom met its climax inside the doors of Hark Rock Live, Universal CityWalk's premier venue. With the passion and skill of Ben Gibbard, Jimmy Tamborello and Jenny Lewis played out on stage, it was evident to every spectator and concert-goer that this was a show to remember.

 


Hard Rock Live just after our arrival! The atmosphere was comfortable and very chill, but at the same time, exciting. Next time there's a show, I'm going to try to get some of those upper balcony seats!

 

My friend Marisa and I arrived at the Universal garage about 20 minutes before doors opened. Parking at the garage is the only way to get to Universal City Walk. Parking didn't take long, and because we were Florida residents and it was after 6 pm on a weekday, it was FREE, which was awesome. Usually, parking is $16 per vehicle, and $5 between 6 pm and 10 pm. After 10 pm, all parking is free.

We walked from our car to Hard Rock (facilitated by moving walkways in the garage) in about 10-15 minutes. Wheelchairs are available to rent for $7 and are recommended for anyone who might have trouble walking or standing for this length of time.

Universal CityWalk is home to many restaurants and shops for your to enjoy, and it's a great area to explore as you wait for an event, whether it's a showing of Blue Man Group, a movie, or a concert at Hard Rock Live. One restaurant worth stopping at for us was Bob Marley's A Tribute to Freedom. Its themed dining features legendary musician Bob Marley's music, memorabilia, and culinary heritage. The reggae atmosphere is sure to get you prepped for any show, and their happy hour specials include tasteful rum concoctions. I ordered their Legendary Mojito while Marisa sipped on an Island Mai Tai.

There's also the Hard Rock Café that, although it carries a heftier price, also grants you admission to what might as well be a music history museum. You'll see iconic memorabilia from some of the most famous names in music while you dine.

 


Check the door times at Hard Rock Live before your concert so you can be one of the first people inside. Remember, there's a security check, so leave any compromising items like pepper spray or a pocket knife back in the car. Photo credit Universal Studios

 

Hard Rock Live was right next to the entrance to Universal and Islands of Adventures. It's a huge Roman coliseum, so, it's hard to miss. Security had no line, so getting through was quick. It was a smart decision to come right after the doors opened because all the people who had been lined up waiting were already inside in front of the stage, leaving plenty of options for us. We went to the bar area which is slightly elevated and right behind the sound and light booth.

After ordering a drink (one drink was good enough to have fun but still remember the show, and reasonably priced for Hard Rock) we decided that the front of the bar area might possibly be the best spot in the house. We were right! My friend and I are a generous 5'2, so being slightly elevated above the crowd in front of us with the stage in center view was great. No one was standing in front of us so we were pretty comfortable (plus we got to see the set list).

 


It's not completely clear in this picture, but we could totally read the set list for the show. It even had some notes on it from the artists! Photo credit Marisa Loya

 

Getting to the restrooms from this spot was also convenient, as they were located down a stairwell off of the main entryway. For a packed venue, the restrooms were big enough to keep a line from forming, and were well maintained. Even right before the show, I had no problem getting a stall.

As far as the sold-out show goes, it was epic. The opening act was Ra Ra Riot, who must have been good because if I didn't care for the music before the show, I DEFINITELY wanted their album afterward.  When the Postal Service came out, I can't even describe the excitement. From the moment I heard the opening chords for "The District Sleeps Alone Tonight," I felt like I was returning back to the beginning of the millennium. And yet, with the sound at Hard Rock, the flawless lighting, the on-stage chemistry between Ben Gibbard and Jenny Lewis, and the skillful execution of beats by Jimmy Tamborello, the music was as relevant today as it was 10 years ago. It penetrated the entire place. Everything was true to the album, except maybe even better, because the atmosphere of the crowd and the Postal Service live on stage was like seeing the album come to life. We never got rowdy, and although the music didn't offer much for totally dancing it out, it was calming and fun to sway to. I probably only saw 2 crowd surfers the entire night, though this practice isn't allowed at most venues.

 


Some awesome merchandise purchased after the concert! Photo credit Marisa Loya

 

Another great aspect of Hard Rock was the opportunity to purchase merchandise from the band. Albums, shirts, and other gear were all on sale featuring the opening act and the main event. But make sure you do all this before or during the show, as it can get a bit chaotic afterwards. After buying a few tees, getting out was as easy as the journey in.

Overall, Hard Rock Live is an excellent venue for any fan of mainstream or old school music. Everything came together to make the concert an enjoyable experience. There are plenty of shows and events to check out at the Hard Rock Live in Orlando. For more information, check out our profile for Hard Rock Live here.

 

Before a concert, have dinner at...

Bob Marley: A Tribute to Freedom is a replica of the famous musician's home that serves as a museum and dining experience glorifying all that is reggae and rock. Enjoy Jamaican specialties, live music, and great drink specials featuring Caribbean rum.

Hard Rock Cafe serves great American grill food alongside some amazing artifacts of rock history. Chill in the bar area before a show, or circle the restaurant where you can find suits worn by Elvis Presley and Paul McCartney, Buddy Holly's iconic glasses, and a no-brand guitar owned by Keith Richards.