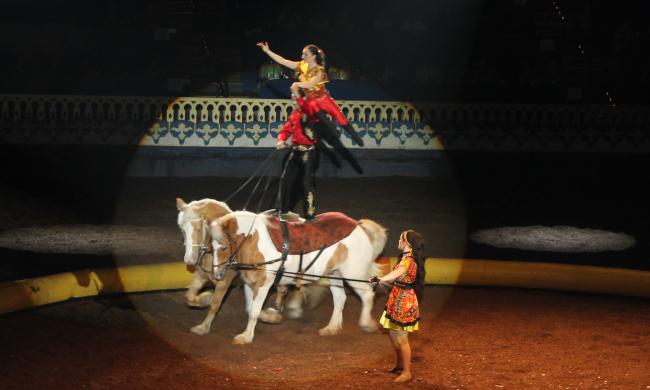 Straight From the Horse's Mouth
Orlando may be known for Walt Disney World Resort and Universal Orlando Resort, but if there's something else we've mastered, it's the dinner show.

From downtown Orlando to International Drive to Kissimmee, Orlando has dinner shows that range from super family friendly to 21+. One of the area's most popular and well-known is Arabian Nights Dinner Show, which just celebrated its 15th anniversary. As part of the festivities, the Kissimmee attraction debuted its first new show in 14 years, The Royal Celebration.

It had been years and years since I'd visited the family-friendly Arabian Nights, and I was super excited to be there for the premiere of the new show! As part of the debut experience, before the show started, we got to talk to some of the performers and employees, including people who had been there since Arabian Nights opened 15 years ago!

Seating in the attraction is similar to an arena; the performance area is a large oval in the center, and stadium-style seats are on both of long sides. One "end zone" has a glassed-in skybox, and the other end zone is part of the performance area. It's Princess Amirah's castle! Yep, there's a princess, and a prince, and a genie, and a sorcerer — magic, romance, loyalty, deception — everything you need for a good plot.

And at the center of it all are the horses, which are magnificent. Without giving away any spoilers, the show is about the beautiful Princess Amirah and her upcoming wedding to the handsome Prince Raswan, who is the greatest horseman in all of the kingdoms. As part of the festivities leading up to the nuptials, the royals give each other gifts, most often in the form of a performance featuring a horse and skilled rider. Amirah's genie best friend and Raswan's sorcerer help with the gift-giving. The audience members are honored guests for the royal wedding, so we get to enjoy all of the performances, which spotlight different cultures from around the world. But there's a few plot twists between the acts, and the audience is left wondering if Princess Amirah will get her dream wedding after all!

 


Acrobatics, a black stallion, cowboys and fire are all part of the new show.
 

 

But really, the horses are the stars, along with the riders who perform amazing feats — jumps, leaps, flips, standing, racing — all on moving horses. It really is incredible what some of them can do.

And while you're taking in all this majesty, rooting for the prince and princess, you're also dining. You order your entire meal, including dessert, pretty much right when you sit down. The menu has five entrée choices and two dessert options. Water and Pepsi products are included, and there are different alcohol packages you can purchase that offer beer, wine and cocktails. You can also upgrade your seating to one of the VIP areas, or add upgrades to your ticket that include different backstage packages.

After the show, the performers bring the horses to the edge of the arena so guests can pet them and take photos as they're leaving.

All in all, it was a really fun day. I'm a horse lover, so the show was totally up my alley. But it's definitely geared more toward children and families, so think G rating, without even a hint of PG. But who doesn't want to escape for a few hours and watch a prince and princess fight for true love, while at the same time displaying their phenomenal horses and horsemanship? It's Orlando – that's just what we do here.

 

More for the family ...

You've done a dinner show, now what? In addition to the large theme parks, Orlando is home to an insane number of family-friendly attractions. International Drive alone could keep you busy for a month. Good luck!

WonderWorks is the upside-down building on International Drive — you can't miss it. It has games, exhibits, a magic show and rides. One of those learning disguised as fun places that's actually really fun.

Gator Golf Adventure Park is an 18-hole putt putt golf course that takes you through a habitat featuring 200 live alligators. It also has shows, and you can feed the gators.