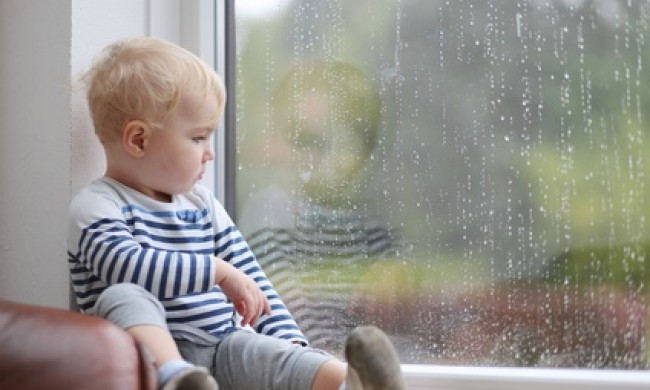 What To Do with Your Kids When It's Raining
If you're a parent in the Orlando area, then you're not starved for things to do with your kids. We're blessed with theme parks and attractions that others flock to from all over the world; however, all that convenience goes out the window when the storm clouds come rolling in. The summer weather in Florida is notoriously all over the place. One day it's pouring, the next day it's sunny, and yet every day is ultimately an irritating mixture of both.

Suddenly, your options for child entertainment are limited to them tearing your house apart while a Disney movie plays in the background, or taking them to the mall where they vandalize a Macy's dressing room. (Cue the Judgy Mommy glares.) To spare you a public shaming and save your children from going cabin-fever-crazy, here is a list of indoor places and activities that offer your kids the opportunity to burn off some energy during the rainy summer months.

 

Bowling Alleys

Many bowling alleys have rebranded themselves from the ashtrays they once were into family-friendly establishments catering to kids who like to throw things at other things. Orlando hosts a wide spectrum of bowling establishments; there is the more upscale Firkin & Kegler in Waterford Lakes, the retro-themed Splitsville Luxury Lanes at Downtown Disney, and the popular glow-in-the-dark lanes at Boardwalk Bowl Entertainment off East Colonial. There is also plenty for the adults to enjoy as the kids are busy knocking things over. Most bowling alleys have a full bar and menu, pool tables, an arcade, and seating room to spare (#bowlingpun). Go show your kids you're a Kingpin and not a real Munson, hit the lanes and tell them Big Ern sent ya'!

 

Movie Theaters

Obviously, kids love movies and this summer will provide no shortage of new releases to entertain your child's short attention span. A fourth Transformers, another How To Train Your Dragon, a new Teenage Mutant Ninja Turtles and Guardians of the Galaxy will have your kids (and possibly husbands) begging for you to take them whether it's raining or not. Most theater chains also offer discounted matinees of older movies for just a few dollars during the summer months, which reminds me that theaters can also be great two-hour babysitters. If you time it right, you can send your kid to one movie and go see a different one down the hall just for you. Something like; 22 Jump Street or the fifth Step Up movie, because why not? That is, if you trust your kid enough to behave (or have implanted a GPS tracking device on them.) No judgment here. Check your local theater's websites for show times before heading out.

 

Skating Rinks

There are many indoor activities in the Central Florida area that provide kids and adults with the chance to be active together. None; however, are as full of fun and nostalgia as roller skating rinks. Do you long for those leathery brown skates with the four chunky orange wheels and the extremely long laces that long ago wrapped thrice around your ankles? If so, check out one of Orlando's many classic roller skating rinks, like Let's Skate Orlando! On West Colonial in Winter Garden, Let's Skate Orlando offers classic and inline roller skating. Kids and adults can also experience ice skating … in Florida ... in the summer! At RDV Sportsplex/Ice Den in Maitland, kids can bundle up and hit the ice while trying not to fall and literally hit the ice.

 

Indoor Playgrounds, Gyms, Arcades and Arenas

There are many indoor venues that can give your kids some entertaining sanctuary from the fickle summer weather. A kid can be a kid in arcades like Chuck E Cheese's or wall-to-wall indoor bounce houses like Monkey Joe's that allow them an outlet for their endless well of energy.

If you find it challenging to find locations for younger kids to play, then Grammy's Indoor Playground is the place for you. For kids 5 and under, Grammy's provides a safe, clean and climate-controlled indoor playground where parents can relax in Adirondack chairs as their children play - free from the fear of older kids running them over.

There are several My Gym locations in the Orlando area that combine fitness and exercise with motor and social skill development. My Gym requires a monthly enrollment, but they also offer a one-time free trial class. It's definitely worth the trip to take advantage of the free trial and check out their incredibly fun facilities. They also offer summer camps for kids that make it easy for parents with their drop-off program, pay-by-the day options, and sibling discounts.

If your kids are looking for real action on a rainy summer day, then look no further than Combat City Airsoft Arena. Airsoft is a mess-free and harmless alternative to paintball. With indoor locations in Winter Park and on I-Drive, kids and adults can get valuable exercise and work out their issues while nailing each other with soft, tiny foam pellets. It's the safest form of family therapy.

All of these Orlando venues offer amazing birthday parties and accommodations for large gatherings. Visit their TodaysOrlando.com profile page for more information.

Stay dry out there!