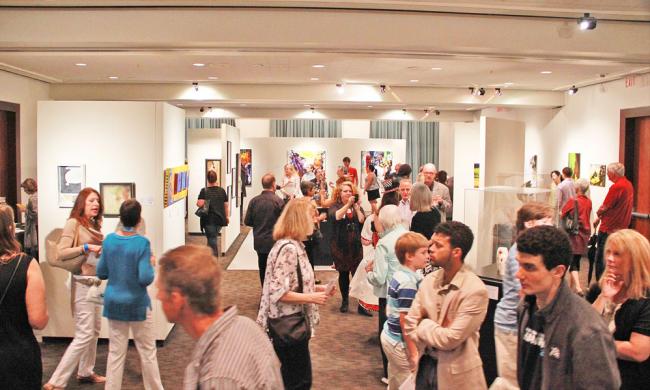 1st Thursdays: Ghostly Encounters
At Loch Haven Park.
2416 N. Mills Ave., Orlando, 32801
The Orlando Museum of Art's 1st Thursdays is an award winning monthly event with a unique theme, featured artists, live music, presentations, appetizers from local restaurants, and cash bar with wine, beer, and soda.

This month's event is entitled "Ghostly Encounters" and will feature works of art emulating ghostly figures, ghoulish depictions, and dark elements. Performance art will include Ghostly Tales presented by Spoken Word, and the Dave Capp Project who will be performing smooth jazz and blues band music. Watch as the Florida Tribal Dance provide you with some dance entertainment, and enjoy artistic demonstrations by Steve Piscitelli and Bernard Martin.

Paul Joachim, an international celebrity chef and Food Network Challenge Winner will be making chocolate sculptures. Visitors can dine on plates from Vital Flair, and sample Cake Art courtesy of Le Cordon Bleu College of Culinary Arts. Get your face painted by Lori Jessup, or have your photo taken with a Creepy Photo Op Vignette by Lee Forrest Designs.

At 1st Thursday, guests will also have an opportunity to learn about Ghost Stop, a group of professional paranormal investigators, the Red Chair Project, and the Florida Artists Registry. Attendees will vote on their favorite piece of art, and at the end of the night, see which work takes home the prize.

$10 admission price includes access to some of the museum's exhibits, including A Passion for Collecting: Art and Decorative Works from Central Florida Collections, Trevor Bell Across the Gulf Stream: Paintings from Florida and Cornwall, American Art, Art of the Ancient Americas, and African Art.

Parking is free at Loch Haven Park and at the Orlando Science Center parking garage.

For more information on the Orlando Museum of Art, check out their profile page.
Upcoming Events
that also might interest you