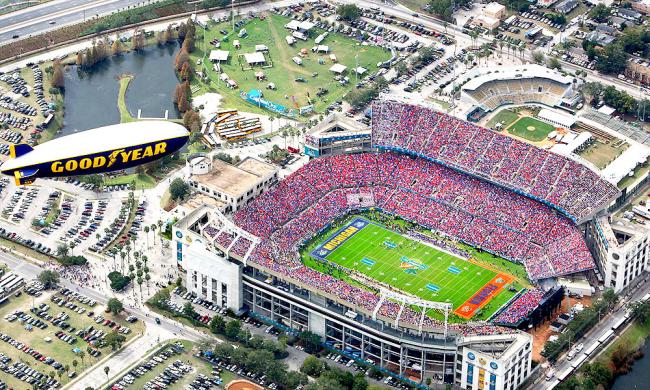 Capital One Bowl
On Church Street west of I-4.
1610 W. Church St., Orlando, 32805
The Capital One Bowl college football game features the South Carolina Gamecocks against the Wisconsin Badgers. The game is a match up between the SEC and Big Ten with the first selection after the BCS for both conferences. The two teams competing did well in the 2013 season, with South Carolina finishing their season with ten wins and two losses, and Wisconsin finishing with nine wins and  three losses.

This is the first ever matchup between South Carolina and Wisconsin. e Capital One Bowl game will be televised nationally by ESPN3 and ABC.

Parking will sell out for the Russell Athletic Bowl Game, so fans are encouraged to use the City of Orlando's downtown shuttle service on game day. On game day, all Florida Citrus Bowl Stadium parking lots are manned and reserved for permit parking, recreational vehicles, chartered buses, and disabled parking. Public parking is available on a presold basis through Click and Park. Stadium parking permits may be purchased on-line through www.clickandpark.com or by calling 866-330-PARK (7275). No traffic is permitted on stadium roads on game day without pre-paid permits. Parking lots open at 8:00 a.m. Parking for regular cars is $32. Parking for limousines is $38.

The 2014 Capital One Bowl game between Wisconsin and South Carolina is held at Florida Citrus Bowl Stadium on Church Street west of I-4. For more info on Florida Citrus Bowl Stadium, view their profile page.
Upcoming Events
that also might interest you