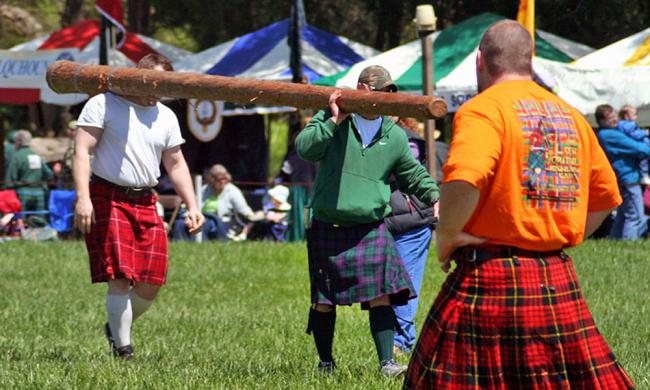 Central Florida Scottish Highland Games
Jan. 18 - 19, See times below.

In the Central Winds Park
1000 E. SR 434, Orlando, FL, 32708
Central Florida Scottish Highland Games is an annual festival celebrating Scottish, Irish, and Celtic heritage. The event has Scottish food vendors, shops selling novelties from Ireland and Scotland, entertainment and athletic competitions.

Some of the gaming events from Scottish culture include Archery, the Open Stone Put, the Hammer Throw, and the Caber Toss, where a tree that has been cut and trimmed down is thrown. Newly added is Quidditch, a sport inspired by the Harry Potter books. The festival games test strength, dexterity, and accuracy, with awards given in different categories.

Guests to the Scottish Highland Games can also watch a variety of entertainment. There will be a Highland Dance Competition featuring amateur dancers performing a variety of dances like the Scottish Lilt and the Highland Fling. For some social atmosphere, guests can participate in some Scottish Country Dancing. Listen to Irish and Scottish music with bagpipe bands and Celtic performers including Albannach, RATHKELTAÍR, Uncle Hamish and the Hooligans, Cutthroat Shamrock, The Wyndbreakers, and Men of Worth.

A children's area will provide Scottish-themed arts, crafts, and games. Ages 1 through 12 can compete in their own Caber Toss, or hurl haggis from atop a whisky barrel. Crafts include paper crafts, coloring and puzzles, or kid can play European sports like soccer (also known as football)and golf. Free face painting will be offered, and children will be astonished by the Junior Piper Performance

Food and drink will be available at the Central Florida Scottish Highland Games. Visitors can enjoy whiskey tastings and European beers. There will be a shortbread competition and vendors cooking up haggis, shepard's pie, and other British Isle dishes.

The festival is on Saturday, January 18 from 8 a.m. - 9 p.m., and on Sunday, January 19 from 8:45 a.m. - 5 p.m.

The Central Florida Scottish Highland Games will be held at Central Winds Park, which is located in the city of Winter Springs, Florida.
Upcoming Events
that also might interest you