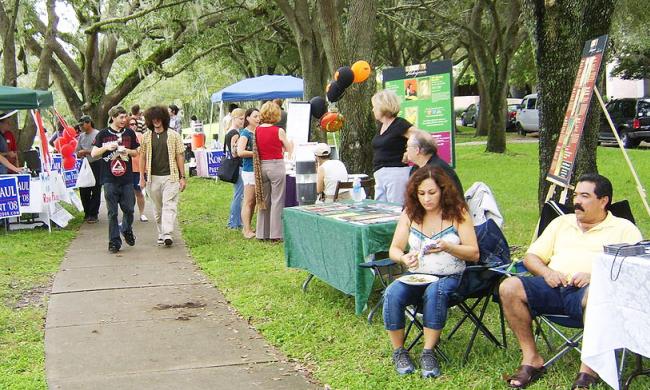 Central Florida Veg Fest 2013
Before the airport.
2911 E. Robinson St., Orlando, 32803
Veg Fest is a fun, free, educational day focused on vegetarianism. The festival features vendors, new products, and information on the nutritional benefits of a vegetarian lifestyle. As mentioned, admission is free for both kids and adults, and everyone is invited to attend whether you're a vegetarian or not. The event is great for families; it's smoke free and even pet-friendly. The festival will have live entertainment and an art corner, as well as a kids' zone for children to have fun and learn about healthy eating.

Events in the kid's zone include a dance class with mom, coloring pages, recipes for children and fact sheets. There are also vendors to learn about various activities around town for kids, and animal characters for children to get their picture with.

Speakers will provide information about vegetarian diets and perform food demonstrations for a variety of healthy dishes. Susan Hargreaves will have a booth set up at the event and will be leading humane education. She'll be available to talk to about advocacy. She's an award-winning advocate with more than 30 years experience in the environmental movement. She runs KidsHelpAnimals.com & HumaneEducatorsReachingOut.com. NBA legend John Salley will be speaking about his experiences as a vegan and defender of animal rights.

Food demonstrations will include helpful preparation tips, and include green topics like "Preparing for a Raw Food Holiday," "Keeping It Cheap, Protein-Rich & Real in a Non-Vegan World," "The Three Steps to Making A Perfect Raw Kale Salad," "Vegan Black Metal Chef Cooking Demo" and more. Engage your mind, body, and spirit with yoga classes during the day provided by Warrior One Power Yoga.

An acoustic stage will be set up with musicians performing throughout the day. Live entertainment acts include Kam, Gabriela Aparicio, Vento, Hotel Hurry, Knox McRae, Blood Brother, and Pickens Ivey. There will also be an artist corner with cultural vendors selling their works, and plenty of food vendors from restaurants around Orlando. Beer and wine will be available for sale.

Veg Fest is organized by the Vegetarians of Central Florida. This will be their 8th year running this exciting vegetarian event.

Veg Fest will be held at Orlando Festival Park. For more information on Orlando Festival Park, check out their profile page.
Upcoming Events
that also might interest you