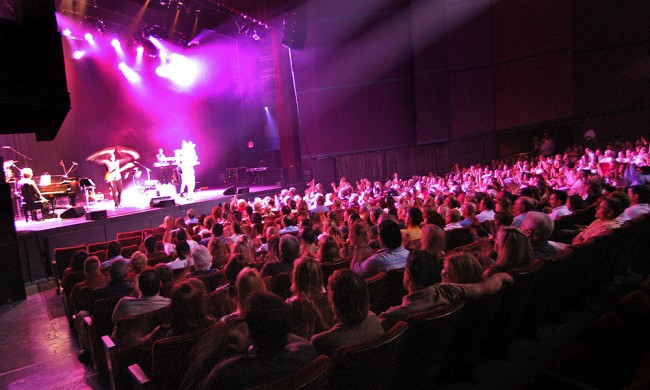 Crosby, Stills, & Nash
6 blocks north of the Amway Arena.
401 W. Livingston St., Orlando, 32801
Crosby, Stills, & Nash will be playing a concert at the Bob Carr Performing Arts Centre in Orlando. David Crosby, Stephen Stills and Graham Nash unite as "three together" and will perform songs from their extensive catalog, as well as new material from each member. Crosby, Stills & Nash (CSN) are accompanied by its backing band featuring: Shane Fontayne (guitar), Steve DiStanislao (drums), Kevin McCormick (bass), James Raymond (keyboards), and Todd Caldwell (organ).

Crosby will play following a sold out solo tour in the U.S. in April in support of Croz, his first solo release in 20 years. He also has five sold out shows at the Troubadour in Los Angeles and two sold out shows at Great American Music Hall in San Francisco. Croz was released in January on Blue Castle Records, the label Crosby and Nash founded in 2011, and debuted at No. 36 on the Billboard 200 chart. Stills announced a 17-date solo tour, which starts May 8 in Santa Cruz, CA and ends on June 3 in Tucson, AZ. He recently toured solo and with The Rides, his blues-rock trio with Kenny Wayne Shepherd and Barry Goldberg. Their album Can't Get Enough was released last summer. Carry On, a four-CD box chronicling Stills' career—produced by Nash and Joel Bernstein—also came out in 2013. Nash recently wrapped a solo tour—followed by an ongoing book tour for his long-awaited autobiography Wild Tales; A Rock & Roll Life, published last September by Crown Publishing Group. He will be performing two solo shows at the brand new City Winery in Napa, CA on April 29 and 30. Nash also exhibited his artwork and photography throughout 2013.

It has been more than four decades since CSN first harmonized in Laurel Canyon, and played its first-ever concert as a trio at the legendary Woodstock festival. Its members continue a creative partnership that is one of the most influential and enduring in music. CSN have each been inducted into the Rock and Roll Hall of Fame twice—with Crosby, Stills & Nash, and a second time with The Byrds, Buffalo Springfield, and The Hollies, respectively. They are also in the Songwriter's Hall of Fame; honored both for CSN as a group, and as individual, solo artists.

Some of their most well-known tracks include "Just a Song Before I Go," "Wasted on the Way," and "Woodstock."

$1 per ticket sold will be donated to charity (excluding VIP and special benefit seat packages through their official website).

Tickets are on sale May 9. The show will be playing Thursday, August 7, 2014.

For more info on the venue, check out the Bob Carr Performing Arts Centre profile page.
Upcoming Events
that also might interest you