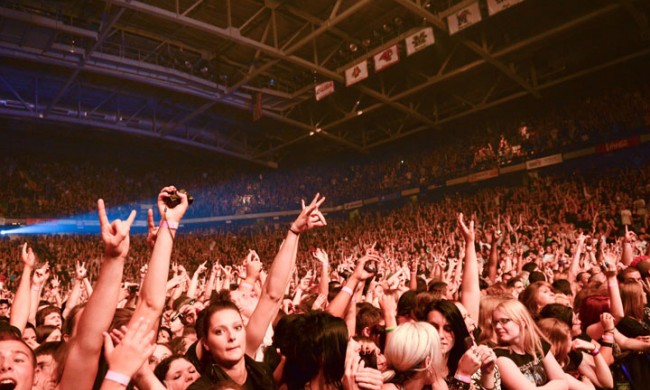 Darius Rucker
April 24th - 7:00pm

at CFE Arena

On campus at UCF.

12777 Gemini Blvd. N, Orlando, 32816
Darius Rucker will be visiting Orlando's CFE Arena as part of his True Believers Tour, alongside the Eli Young Band and Corey Smith.

Darius Rucker first emerged to the music scene as the lead singer and guitarist of the Grammy Award-winning rock band Hootie and the Blowfish. The band was founded in 1986 at the University of South Carolina, consisting of Darius Rucker, Mark Bryan, Jim "Soni" Sonefeld and Dean Felber.

Rucker has since re-introduced himself as a solo country artist. In 2008, he released Learn to Live, and the album's first single, "Don't Think I Don't Think About It," made him the first African American with a number one country song since Charley Pride in 1983. It was followed by two more singles that topped the chart - "It Won't Be Like This For Long" and "Alright" - and earned him the New Artist award from the Country Music Association.

In October 2012, Rucker achieved a childhood dream when he was inducted into the Grand Ole Opry. He will perform his chart-topping singles at CFE Arena in Orlando where visitors can enjoy an exhilarating performance.

Eli Young Band is comprised of the same four musicians who met in college 11 years ago. This band has released numerous chart-topping singles including three number one hits: "Crazy Girl", "Even If It Breaks Your Heart" and "Drunk Last Night." Their first number one hit, "Crazy Girl" became certified Platinum.

Corey Smith is a singer and guitarist who combines country, rock and blues to create a truly unique sound. His Americana music has landed him in Country Weekly and Music Row Magazine as one of country music's hottest new artists.

This concert will be held on Thursday, April 24, 2014 at 7 p.m. Tickets are $27.50 - $57.50.

Darius Rucker will be playing at CFE Arena on UCF's campus. For more information on CFE Arena, view their profile page.
Upcoming Events
that also might interest you