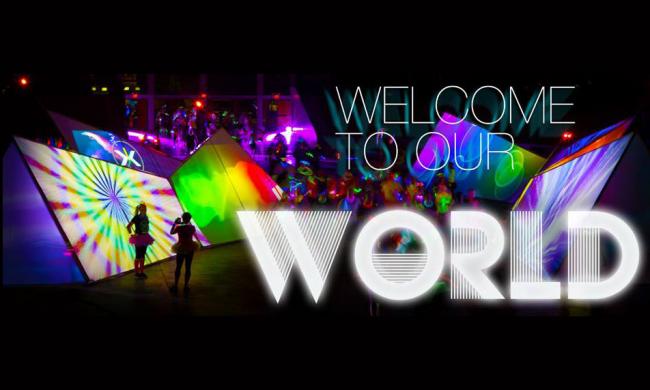 Electric Run 5K
February 15th - 7:00pm

At the Central Florida Fair and Exposition Center on West Colonial Drive.
4603 W. Colonial Dr., Orlando, FL, 32808
Electric Run is the World's Premier Nighttime 5k run/walk experience, where participants are an integrated part of the athletic show. The 5K run through Orlando features immersive "Lands" of light and sound that transport the runner into an electric wonderland. The Electric Run in Orlando promises to transport the mind, body and soul to a new world in a healthy and drug-free way. Participants are encouraged to join in on the art by dressing up in bright colors and lighting up with with glow sticks, LEDs and anything else their imagination can conjure up.

There will be 5-7 lands each with a different mood. Some will be very up beat others will be more etherial.  In between these worlds will be areas of relative silence and no lighting elements. These "dark" areas will give the senses and chance to reset before entering the next Land. There will be enough light in these "dark" areas to make it safe to run.

Registration is open. The earlier participants sign up to run in the 5K, the better deal they'll get. The registration fee includes a one-of-a-kind light show designed by the the nations most talented lighting designers and artists. In addition to the light show, participants will receive a high quality cotton-poly event shirt in either a men's or women's cut, LED bracelet, glow necklace and glow glasses. The Electric Run isn't a race, so the event is not timed. Parcipants can walk or run; walkers stay to the right and runners to the left. This is an all ages event. In fact, kids 7 and under run for free and don't need to register. Strollers are welcome and can also be decked out with lights.

The Electric Run™ will feature many of the same light elements that could be found at a rave but the focus of an electric run is on health and celebration. We believe everyone, no matter their age, should be able to experience lights and music in an environment that is healthy and happy. There is no tolerance for drugs at the event.

If you are planning on picking up packets for someone else, or for your other team members, you MUST bring a signed copy of the Packet Pickup Release Form, which can be downloaded from the Orlando Electric Run website. For $5 convenience fee there will be packet pickup available on event day from 6:00 pm to 8:00 pm. The Electric Run encourages everyone running in Orlando to pick up their packet beforehand, as really long lines have a tendency to form on-site.

The Electric Run benefits a charitable organization, usually a local one. The charity will be announced closer to the run, along with parking information.

The Electric Run in Orlando will be held at the Central Florida Fair and Exposition Center on West Colonial Drive.
Upcoming Events
that also might interest you