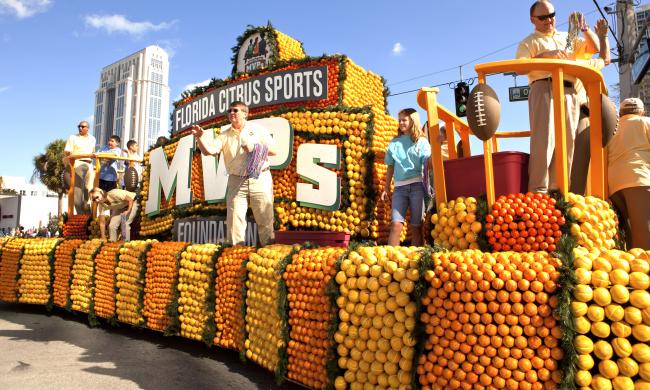 Florida Citrus Parade
December 30th - 10:00am
195 N. Rosalind Ave., Orlando, FL, 32801
The Florida Citrus Parade occurs is large parade held in Downtown Orlando every year. The parade occurs between the Russell Athletic Bowl and Capital One Bowl games. It's one of the most popular sports affiliated parades in the country and is shown on over 75% of the TV markets in the U.S., and even in some international markets.

The Florida Citrus Parade is characterized by orange and citrus floats, high school marching bands from across the nation, and college bands for the schools participating in the bowl game. Upwards of 3,000 participants perform in this live event as it makes its way through Orlando. The parade begins on Orange Avenue and Robinson Street and continues south on Orange Avenue, east on Anderson Street, then north on Rosalind Avenue. The parade concludes at Rosalind Avenue and Robinson Street. The route is 1.4 miles in length and takes 90-120 minutes to complete.

Reserve seating for the Florida Citrus Parade is sold out. The grandstand and broadcast area is located on Rosalind Avenue adjacent to Lake Eola. Although the grandstand area tickets are sold out, attendance is still open for free anywhere else on the route. There will be curbside seating available all along the streets of Downtown Orlando starting at 6 a.m. Official food and beverage vendors for the Florida Citrus Parade are located at Washington Square Plaza along Rosalind Avenue at Lake Eola Park.

The Florida Citrus Parade starts at 10 a.m. and is expected to run until 12 p.m. It will be in Downtown Orlando near Lake Eola Park. For more info on Lake Eola, view their profile page.
Upcoming Events
that also might interest you