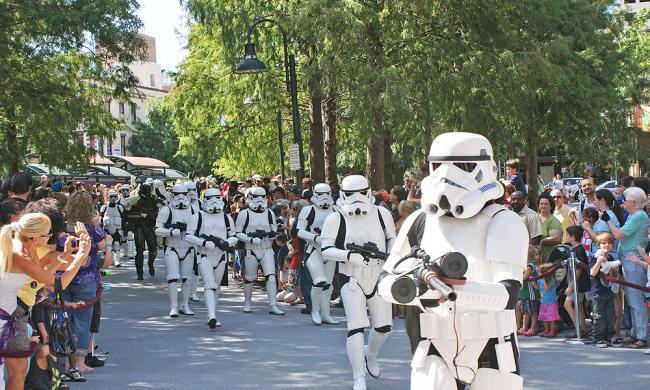 Galactic Encounters
Stone building in the middle plaza.
65 E. Central Blvd., Orlando, 32801
Galactic Encounters is two fun, Star Wars filled days for the whole family at the Orange County Regional History Center. Thousands of people in the community attend this Orlando event annually, with such a great reception that for the first time, they've extended the event to 2 days.

The event  starts on Saturday with  the Stormtroopers from the 501st Legion: Vader's Fist marching into the museum through Heritage Square at 11 am. Visitors will be able to line up, view the march and take photos of the characters as they parade into the museum.

Once the march is complete, guests can follow in and enjoy Star Wars exhibits throughout the entire museum. There will be Star Wars crafts for kids to create. A Darth Vader bowling area and Lego Builders booth will be set up to offer activities and games for the family.

A snack area decorated to look like a pilot's lounge will have special treats including Wookie Cookies, Yoda Juice, and Blue Milk. There will also be plenty of photo ops with Jabba the Hutt, Darth Vader, Han Solo frozen in the carbonite, R2D2, and a recreation of a Tusken Raider village.

Admission to the Star Wars event includes admission throughout the entire museum where all these Star Wars areas will be set up.

All these activities will continue on Sunday as well, where there will be a droid parade at 12 pm.

Admission is free for museum members and children ages 4 and under. Tickets are sold online and at the museum starting at 9:30 am.

Galactic Encounters will be held at the Orange County Regional History Center. For more info on this museum, check out their profile page.
Upcoming Events
that also might interest you