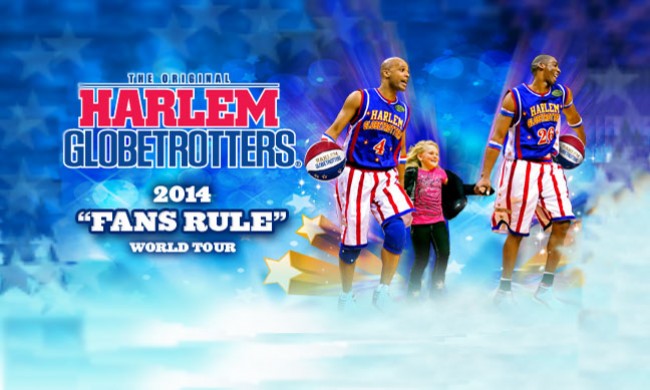 Harlem Globetrotters
March 6th - 7:00pm

at Amway Center

Located on Church Street just west of I-4.

400 W. Church St., Orlando, 32801

(407) 440-7000

(800) 745-3000
The world famous Harlem Globetrotters are coming to Orlando and bringing all the fun tricks and exciting thrills that have been entertaining families and millions of fans for 88 years. Unlike ordinary basketball players, the Harlem Globetrooters are exhibition basketball stars that impress audiences with humor, theatre, and raw talent. Since their inception in 1927, they have performed more than 20,000 exhibition games in 120 countries. They have also been featured throughout pop culture, including on televsion shows like Gilligan's Island, The Love Boat, Futurama, and  Scooby Doo. "Sweet Georgia Brown" is their signature song, and "Globie" is their endearing mascot. Last year, the Globetrotters tried a new form of entertainment where fans voted on tricks they wanted to see.  It was so successfull that they've decided to do it again, and there are cool new rules to choose from on the 2014 "Fans Rule" World Tour:

Hot Hand Jersey – A player wearing this jersey gets double the points when scoring.

Make or Miss – The quarter starts with 2 players on each team. When a team scores, a teammate may enter the court.  When they miss, a teammate must leave the court. 

Trick Shot Challenge – The teams challenge each other to make trick shots, with 5 points awarded to a team that makes a trick shot, and 5 points given to the opposing team if the shot is missed.

Go to www.harlemglobetrotters.com/rule to vote for your favorite, craziest rule. Then, get your tickets to the game, where you will see the winning rules put into live action. 

The Harlem Globetrotters will be playing on Thursday, March 6, 2014 at 7:00 p.m. at the Amway Center in Downtown Orlando.

Tickets are on sale now online, by phone, and at the box office. All tickets to this Orlando basketball performance are subject to applicable taxes, service, handling and facility fee charges.

For more info on the Amway Center, view their profile page.
Upcoming Events
that also might interest you