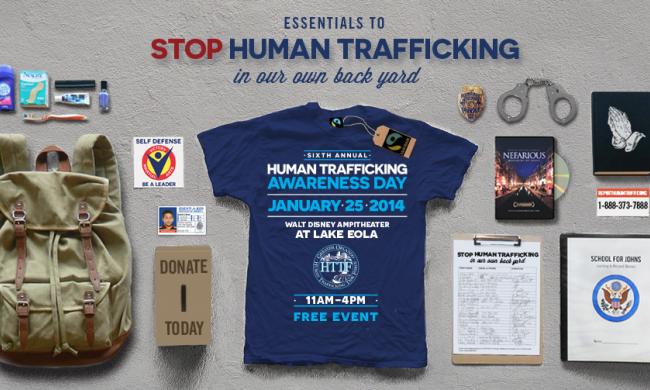 Human Trafficking Awareness Day
Located lakeside at Lake Eola.
Orlando, 32801
Human Trafficking Awareness Day is the largest anti-human trafficking awareness event in Central Florida and is a community-wide effort to address modern-day slavery and the exploitation of children. Central Florida is ranked third in the nation for Human Trafficking Crimes. This free event hosted by the Greater Orlando Human Trafficking Task Force features dozens of governmental and private organizations, fair trade businesses, abolitionists, advocates, artists, and community leaders in Orlando.

There will be free finger printing & picture IDs for children, as well as a bounce house, crafts, and educational games and activities to educate them on the issue of modern day trafficking. Visitors can get information on how to help report trafficking with Anti-Human Trafficking booths consisting of both domestic and international agencies from around the world. View the memory exhibit that will be set up entitled "Where Are All the Missing Children & Adults?" Locals and travelers to Orlando will be able to hear testimonies from guest speakers and abolitionists sharing their stories and experiences, including Tayler Buono and Tim Savage from XXX Church.

Along with educational resources to bring awareness to the issue of trafficking in the state of Florida, you can walk through the art stroll and silent auction, enjoy live entertainment, order a lunch or snack from food vendors, shop with fair trade vendors, and even win a prize.

The 6th Annual Human Trafficking Awareness Day will be held at the Walt Disney Ampitheater in Downtown Orlando at Lake Eola. For more info on this location, view their profile page.
Upcoming Events
that also might interest you