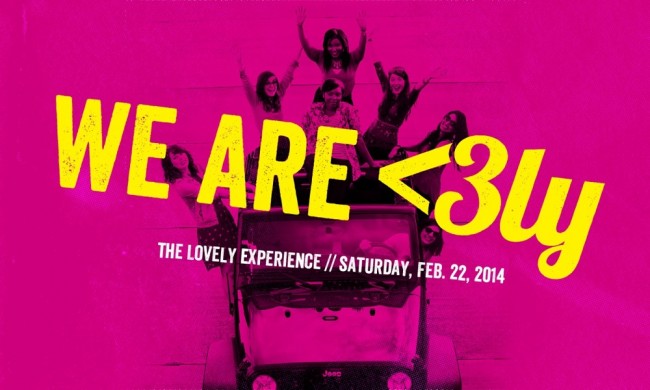 The Lovely Project Experience
February 22nd -

9:00am

to

4:30pm
At the Northwest Auditorium.
5495 Clarcona Ocoee Rd., Orlando, FL, 32810
The Lovely Project Experience is back for its second year after an enormously successful debut in 2013 with events in January and April of last year. The Lovely Project has set a February date for the third installment of The Lovely Project Experience.

This year's theme is "Fired Up, Free, and Fierce." Attendees will experience interactive multi-media presentations, workshops, live music and exclusive dance performances by the Northwest Dance company; all meant to fill girls with the knowledge of their value, voice, and valor.  The Lovely Project Experience is led by Aslinn Bouton, Grace McKenzie, Hope Evans and founder Dr. Crystal Evans.

The Experience is open to young women ages 11 and up. Ages 11-19 attend the event for free. The Lovely Project makes this possible through fundraising efforts and through the support of sponsors. Women ages 20 and up are charged for admission, however scholarships are available for those that fall into the "paid" categories. All scholarships are pre-arranged, and are easily attained. They also welcome community leaders to attend as VIPs and special guests, so that they can see first-hand the work that is being done. The Lovely Project also maintains contact after the Experience event with girls who wish to do so by encouraging them to join a Lovely Group that meets near them. In these small peer based groups, the message continues weekly through a dynamic curriculum that is designed to further the message of value, voice, and valor.

Topics like molestation, cutting, bullying, rape, teenage pregnancy, parental drug abuse, and others are addressed by the Lovely Project. One of their Lovely Like Me stories was recently featured nationally on HuffPost Live in a segment concerning families/children of sex offenders.

The Lovely Project Experience is on February 22nd, from 9 a.m. to 4:30 p.m. It will be held at the Northwest Auditorium on Clarcona Ocoee Road in Northwest Orlando.
Upcoming Events
that also might interest you