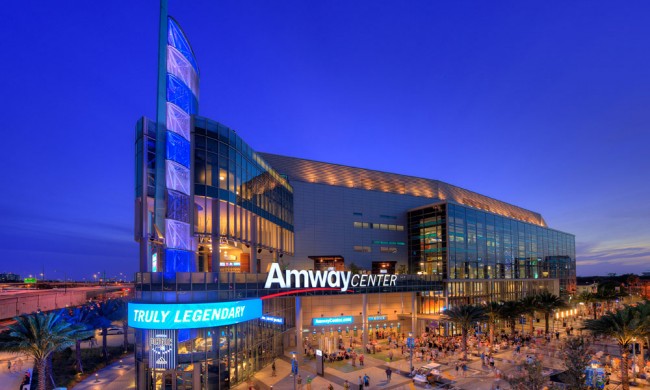 NCAA March Madness
Located on Church Street just west of I-4.
400 W. Church St., Orlando, 32801
Be a part of March Madness with a Division I championship game at the Amway Center in Downtown Orlando.

Experience with one ticket to all six games, single session tickets, or purchase a special VIP package for you and a group. For more info visit www.centralfloridasports.org/ncaa-hospitality. There will be four games held on March 20th and two games on March 22nd. The teams to play will be determined on Sunday, March 16, but regardless of who plays, March Madness is an exciting sporting event for any fan.

The Amway Center is the home court for the Orlando Magic NBA team. The Orlando Magic began playing in 1989. They won conference titles in 1995 and 2009, and have five division titles under their belt from 1995, 1996, 2008, 2009, and 2010. For more info on the Orlando Magic, view their profile page.

Tickets for the NCAA March Madness Game at the Amway Center are on sale and may be purchased online. Visit www.centralfloridasports.org/ncaa for more info.

The NCAA Division I Men's Basketball Championship will be held at the Amway Center. For more information on the Amway Center, view their profile page.
Upcoming Events
that also might interest you