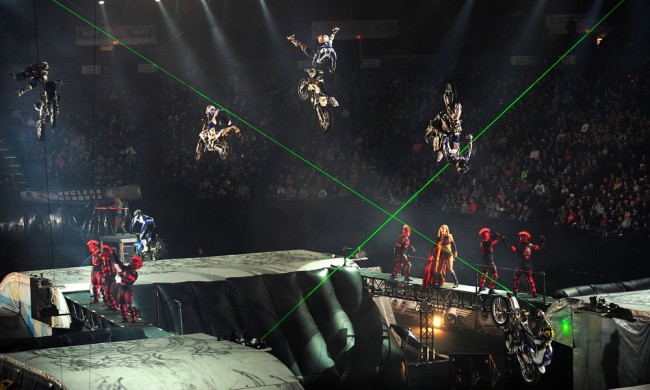 Nuclear Cowboyz
March 8th, 7pm; March 9th, 2:30pm

at Amway Center

Located on Church Street just west of I-4.

400 W. Church St., Orlando, 32801

(407) 440-7000

(800) 745-3000
Nuclear Cowboyz is an the explosive, choreographed, arena-based, freestyle motocross (FMX) touring production. It'll be making its first-ever stop in Central Florida at Amway Center, March 8 - 9, 2014. The Nuclear Cowboyz 2014 FMX show tells the story of an allied tribe, the Nuclear Cowboyz, whose sole commitment is to defeat an indestructible evil tyrant and her army in this action-infused freestyle performance of pure danger and raw combat. This live entertainment show combines story telling and stunts.

The Nuclear Cowboyz 2014 FMX tour features a saga conveyed through more than 1,000 gravity-defying freestyle tricks performed by dominant freestyle athletes. The adrenaline-packed show is complete with stunning laser effects, the largest indoor pyrotechnics display, and a thrilling soundtrack of rock, electronic dub-step and alternative hip-hop music.

Adding to the action, the show features the critically-acclaimed Shaolin Kung Fu Warriors defying their limits of courage through martial arts performances with swift movements, extreme force, and fierce concentration that test the sheer strength and agility of their bodies. These warriors use their own bodies to bend metal rods, break objects in precise strikes, and be lifted in the air on the points of handheld spears.

Entering its fifth touring year, Nuclear Cowboyz 2014 is led by an award-winning creative team and features top freestyle motocross athletes, including multi-time X Games medalists Jeremy "Twitch" Stenberg, Taka Higashino, Mike Mason, Matt Buyten, Ronnie Faisst and Colten Moore, as well as freestyle heavyweights Derek Garland, Jimmy Fitzpatrick, Nick Dunne, Brody Wilson, Marco Picado, and more.

VIP Tickets
Experience Nuclear Cowboyz with a VIP Fallout Zone ticket. A limited number of tickets are set aside for the biggest Nuclear Cowboyz fans. Each VIP Fallout Zone ticket includes: Premium seating and admission to a private meet-and-greet with the stars of Nuclear Cowboyz 2014, a commemorative VIP Fallout Zone credential, and poster. Only VIP Fallout Zone ticket holders will be able to take part in the meet-and-greet. Don't wait as these seats are extremely limited and will go fast. VIP Fallout Zone tickets are $100 each.

The Nuclear Cowboys will be performing their stunt show on Saturday, March 8, at 7:00 p.m., and on Sunday, March 9, at 2:00 p.m. at the Amway Center in Downtown Orlando.

Tickets are on sale now online, by phone, and at the box office. All tickets to this live entertainment stunt show are subject to applicable taxes, service, handling and facility fee charges.

For more info on the Amway Center, view their profile page.
Upcoming Events
that also might interest you