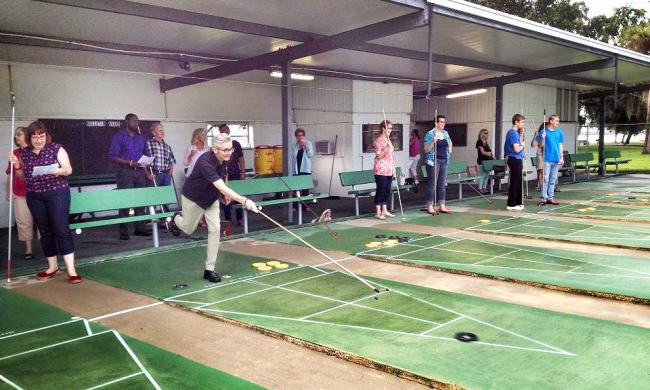 The Orlando Shuffle
First Saturday of Every Month at 7pm
At the Beardall Senior Center.
800 S. Delaney Ave., Orlando, FL, 32801
A popular Florida pasttime is making a comeback in the city of Orlando. Starting Oct. 5, join Beardell Senior Center for shuffleboard the first Saturday of every month at 7pm. This free event features shuffleboard games and is family friendly. Lemonade and water will be served, classic background music will be played, and retro attire is greatly encouraged to all who come!

 In 2013, the sport of shuffleboard celebrates 100 years in Florida. It began as a sport aboard cruiselines and ships, but came to land in 1913 in Daytona Beach. In honor of it's 100 birthday, Orlando Shuffle hopes to bring this Florida tradition back into our culture. Orlando Shuffle is modeling their community after the St. Pete Shuffle which has been met with much success and at one point in time had 5,000 registered members.

The Orlando Shuffle will meet at the Beardall Senior Center in South Orange.
Upcoming Events
that also might interest you