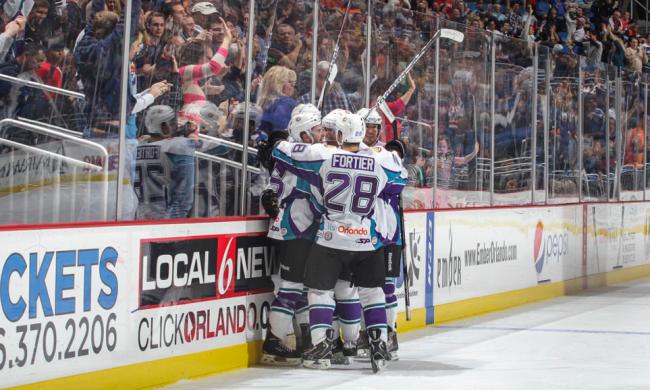 Orlando Solar Bears vs. Colorado Eagles
Dec. 4, at 7 pm & Dec. 8, at 3 pm

at Amway Center

Located on Church Street just west of I-4.

400 W. Church St., Orlando, 32801
See the Orlando Solar Bears take on the Greenville Road Warriors at the Amway Center.

The Solar Bears are Orlando's official hockey team. They play in the East Coast Hockey League (ECHL) and first came to Orlando in 1988.

The Colorado Eagles are a minor ice hockey team part of the ECHL. Their home base is in Loveland, Colorado, and their head coach is Chris Stewart. The team first came together in 2003 and were accepted into the ECHL in 2011. Some of their top players include Kevin Ulanski, Marc Cheverie, and Kyle Ostrow.

The Colorado Eagles have 11 wins and 4 losses, while the Solar Bears have 12 wins and 6 losses.

 

December 4, 7pm

The Solar Bears will be having an Accountant Appreciation Night for the game. If you're a professional in the Orlando community, then this is your night to come out and see a Solar Bear hockey match. The game will be an ideal opportunity to network with local accounting firms.

 

December 8, 3 pm

Join with other educators in the Orlando community for Teacher Appreciation Weekend, running Friday through Sunday.

 

The Orlando Solar Bears will be playing at the Amway Center. For more info on the venue, check out the Amway Center profile page.

Cover photo credit, ©2013 Gary Bassing/Orlando Solar Bears.
Upcoming Events
that also might interest you