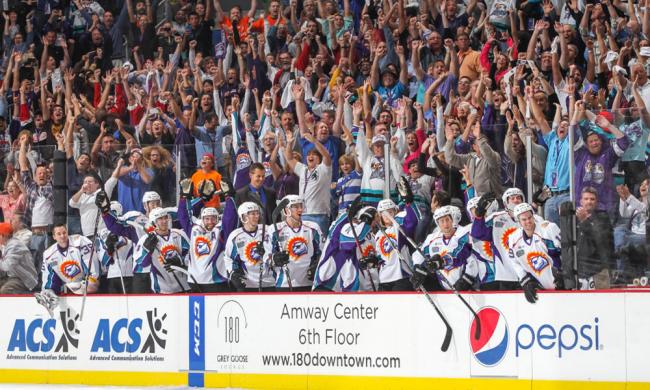 Orlando Solar Bears vs. Elmira Jackals
November 7th - 7:00pm

at Amway Center

Located on Church Street just west of I-4.

400 W. Church St., Orlando, 32801
See the Orlando Solar Bears take on the Elmira Jackals at the Amway Center hockey arena. The two ice hockey teams will be playing in the Solar Bears' fifth home game of the season.

The Thursday game will be Attorney Appreciation Night. If you're a professional in the Orlando community who works to uphold the law and defend the innocent, then this is your night to come out and see a Solar Bear hockey match. The game will be an ideal opportunity to network with local law firms. The Attorney Appreciation Night Package includes early admittance through a VIP entrance into the Amway Center, as well as a pre-game Meet & Greet autograph and photo session with Orlando Solar Bears players and mascot. Bring your law office or company out to the game and get special bonuses.

15 or more tickets will get your company recognized on the video screen during the game.
25 or more tickets will get your company announced during the hockey game.
50 or more tickets will get a representative from your group included in an on-ice presentation.

Also, ask about premium suites for your business.

The Elmira Jackals are a professional minor league ice hockey team based in Elmira, New York. They are part of the Atlantic Division of the ECHL's Eastern Conference. The team was founded in 2000 and their head coach is Dwight Mullins who came on board last season. The team have won conference championships in 2002 and 2004. The Elmira Jackals have won 3 division championships in 2002, 2010, and 2012.

The Orlando Solar Bears will be playing against the Elmira Jackals at the Amway Center. For more info on the venue, check out the Amway Center profile page.

Cover photo credit, ©2013 Fernando Medina/Orlando Solar Bears.
Upcoming Events
that also might interest you