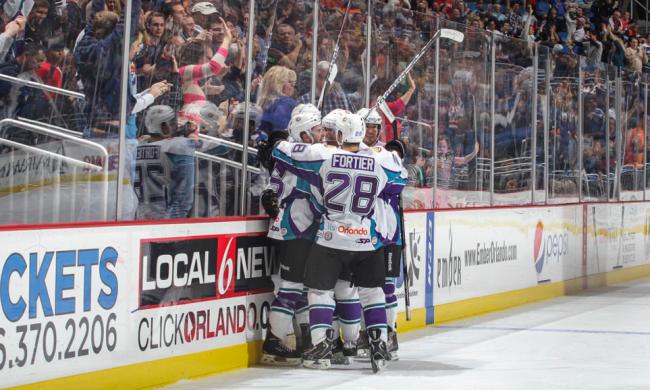 Orlando Solar Bears vs. Florida Everblades
November 21st - 7:00pm

at Amway Center

Located on Church Street just west of I-4.

400 W. Church St., Orlando, 32801
See the Orlando Solar Bears take on the Florida Everblades at the Amway Center.

The Solar Bears are Orlando's official hockey team. They play in the East Coast Hockey League (ECHL) and first came to Orlando in 1988.

The Florida Everblades are a minor ice hockey team part of the ECHL. Their home base is Germain Arena in Estero, Florida, and their head coach is Greg Poss,a Green Bay native. The team first came together in 1998 and have won the Kelly Cup once in the 2011-2013 season. The Florida Everblades and Orlando Solar Bears are in-state rivals, so their games are often an intense face-off!

Florida Everblads players Matthew Pistilli and Brandon MacLean are currently ranked in the 2 and 4 spots for top scorers in ECHL's player stats. Orlando Solar Bear players C.J. Severyn and Mike Ullrich are in the 14 and 17 spots. The Florida Everblades have 10 wins and 2 losses, while the Solar Bears have 8 wins and 5 losses.

This game will feature a Food Drive to benefit the Community Food and Outreach Center.

The Orlando Solar Bears will be playing at the Amway Center. For more info on the venue, check out the Amway Center profile page.

Cover photo credit, ©2013 Gary Bassing/Orlando Solar Bears.
Upcoming Events
that also might interest you