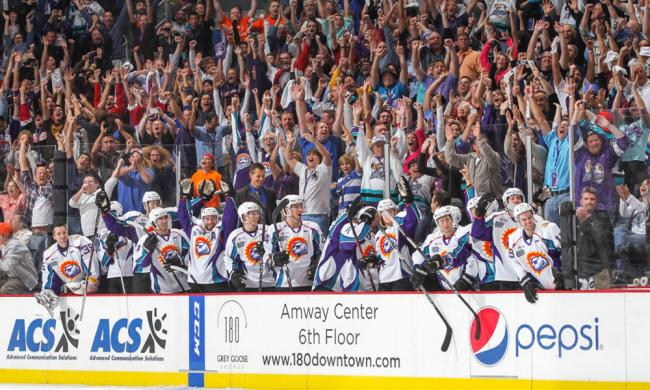 Orlando Solar Bears vs. Gwinnett Gladiators
Oct. 26 7:00 pm, Oct. 27 3:00 pm

at Amway Center

Located on Church Street just west of I-4.

400 W. Church St., Orlando, 32801
See the Orlando Solar Bears take on the Gwinnett Gladiators at the Amway Center hockey arena. The two ice hockey teams will be playing in the Solar Bears' second home game of the season.

The Saturday game will be a Star Wars Night! Fans are encouraged to dress up and get photos with Star Wars characters including stormtroopers and Darth Vader. There will also be a Halloween costume contest and trick-or-treat bag giveaway to the first 3,000 visitors to enter Amway.

The Gwinnett Gladiators are a minor ice hockey team based in Duluth, Georgia. They are part of the South Division of the ECHL's Eastern Conference. Their head coach is Rick Emmett, a former defenseman for the Gladiators who took over in August 2013. The team first came together in 1995 and have made it to the Kelly Cup finals once in 2006, but lost. The Gwinnett Gladiators have won 1 conference championship and 2 division championships under their belt.

The Orlando Solar Bears will be playing against the Gwinnett Gladiators at the Amway Center. For more info on the team, and the venue, check out their profile pages.

Cover photo credit, ©2013 Fernando Medina/Orlando Solar Bears.
Upcoming Events
that also might interest you