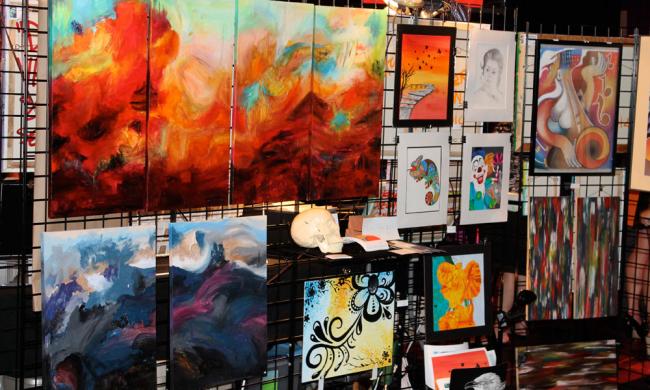 RAW Presents: Spectrum
On the second floor of Pointe Orlando
9101 International Drive, Suite 2230, Orlando, FL, 32819
RAW: natural born artists is a special arts organizations with regular exhibit nights featuring selected artists in different areas of culture: Art, film, hair, makeup, fashion, photography, performing art, accesories and music. The exhibits encourage creativity and provides artists with a venue to showcase their works to the public. People can socialize and enjoy drinks in an edgy, cultured setting while taking an interest in local art. Visitors who find something they like can purchase prints, CDs, or apparel from the featured artist.

April's show is called Spectrum. This show will be hosted by Shani with DJ Commons providing music. Shani has been a local TV personality, host, interviewer and even youth speaker for various events. DJ Commons, or Chris, hails from London England but has lived in the USA for many years now. He has a passion for music and keeps the party at RAW going late into the night.

Art
Nicole K. Poteete
Danielle Manton
JB Dezigns
Giancarlo Carnesella
Zikraun
K. Klein
Lindsey Kate
Noomx

Fashion
Tatjana Andre
Jasmine Hunter
Fancy Fetes
McKenzie
Serendipity
Bahiyah Epifania

Makeup
Briana de Bengson
Vanessa Monroe

Photography
Brandon Connelly
Jennifer Maria Gifford Photography
John Michael Bullock
Tasia
Carolyn Hutchins

Music
Live Hart
Sweet Oblique
A'Desia

Film
Ryan Keller

Dress code is cocktail party. Only adults 21 years and older may attend.

RAW Presents: Spectrum will be held at B.B. King's Blues Club. For more information on this venue, check out their profile page.
Upcoming Events
that also might interest you