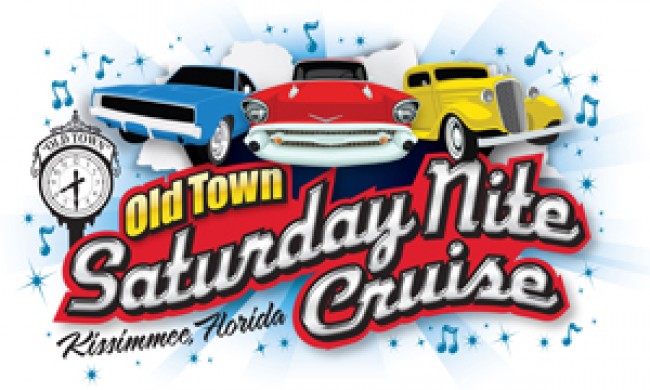 Saturday Classic Car Cruise
Every Saturday, 1 pm - 10 pm

at Old Town
At Marker 9 on Highway 192, three miles east of the main entrance to Walt Disney World Resort
5770 W. Irlo Bronson Memorial Highway, Kissimmee, 34746
At the Saturday Nite Cruise®,  car enthusiasts come together at Old Town to celebrate a time when the automobile was more than just an appliance, a time when the automobile was the blend of the all-American ideals of individualism and freedom.

Soaring tail fins, oversized taillights, chrome-plated metalwork, and over the top upholstery transformed automobiles into art that was lovingly washed and polished by teenagers every weekend before they cruised down to the local hang out.

Old Town captures this feeling every Saturday night and we invite all pre-1975 hot rods, street rods, and antiques to join us as we cruise down memory lane. The cars start arriving at Old Town at 1:00pm. A live oldies band takes the main stage and plays live music for guests starting at 7:00 pm. The cars cruise down Old Town's brick streets at 8:30 pm.

The Saturday Classic Car Cruise takes place at Old Town. Old Town is located at Marker 9 on Highway 192, three miles east of the main entrance to Walt Disney World Resort. For more info on Old Town, view their profile page.
Upcoming Events
that also might interest you