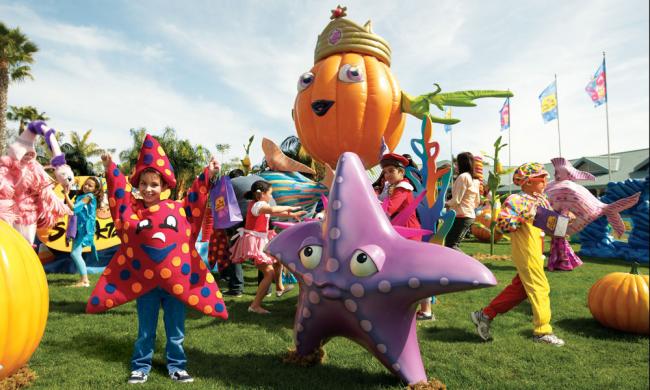 SeaWorld's Halloween Spooktacular
Every Saturday & Sunday in October

at SeaWorld

Off Central Florida Parkway.

7007 Sea World Dr., Orlando, 32821
Halloween Spooktacular is taking over Saturdays and Sundays in October at SeaWorld Orlando! Kids can dress up in costumes, trick-or-treat, enjoy things to do for Halloween including special seasonal shows and fun, fall crafts.

Stations will be set up around the park with candy. SeaWorld is a safe and family-friendly event for children to trick-or-treat. There's a variety of treats and candies available for kids to pick from. Visitors can check their map for locations in the park.

The festivities will feature an underwater theme. Decorate cookies at a craft station with a purchaseable kit that includes cookies, frosting, and toppings. Create a take home craft by coloring spooky creatures or making a foam friend. Join Jelly Belly® Artist Kristen Cumings on Oct. 26 and 27 from 12 pm - 8 pm as she creates a work of art from jelly beans. Kids can join in on the mural fun too.

Check out the Spooktacular Dance Party featuring Princess Penelope and friends at the SeaWorld® Bayside Stadium. Dance to ghoulish tunes and line dances as bubbles fill the air. The dance party starts an hour before the park closes.

SeaWorld's Halloween Spooktacular will also feature live shows. Sesame Street's Countdown to Halloween show features beloved characters from the television series as they count down to Halloween. Laugh and sing along to this musical stageshow at the Seaport Theater. Interact with live entertainment throughout the evening as candy sea witches and more than 35 underwater friends meet, greet, and laugh with guests.

Don't go hungry! Sign up for Count von Count's Spooktacular Breakfast featuring the Count himself, Elmo, and friends. There will be a full breakfast buffet with scrambled eggs, ham, bacon, french toast, sausage, fresh fruit, pastries, bagels and more.

SeaWorld's Halloween Spooktacular will be held at SeaWorld Orlando. For more information on SeaWorld and things to do at the park, view their vacation page.
Upcoming Events
that also might interest you