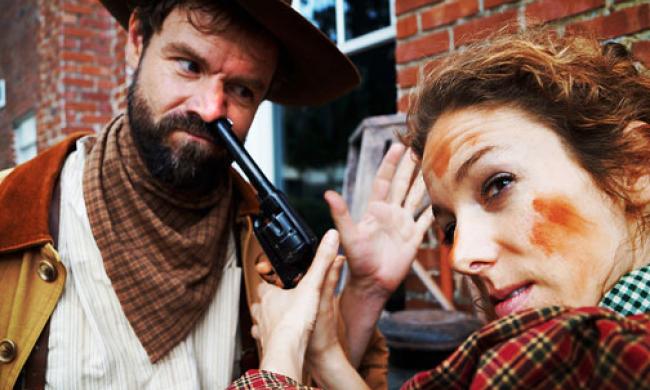 Taming of the Shrew
Located in Loch Haven Park in North Orange.
812 E. Rollins St., Orlando, 32803
The Orlando Shakespeare Theatre will be performing a Western rendition of the classic tale of Taming of the Shrew.

Taming of the Shrew is a Shakespearean comedy that tells the tale of a headstrong Kate and her younger sister Bianca as they search for potential suitors. Bianca cannot marry until Kate finds her ideal man, which isn't an easy task for the stubborn daughter. Watch and see if the determined Petruchio has what it takes to wrangle her heart.

 

CAST
Deanna Gibson - Katherine
Melissa Mason - Bianca
Geoffrey Kent - Petruchio
John Ahlin - Baptista
Anachabe Asomugha - Priest/Taylor
Sophie Bell - Philip/Haber
Brad DePlanche - Grumio
Bridgette Hoover - Widow/Joseph
Jim Ireland - Tranio
Chris Metz - Hortensio
Alexander Ross Neal - Nicholas/Officer
Joel Oramas - Pedant/Nathaniel
Jeffrey Todd Parrot - Curtis
Brandon Roberts - Gremio
Chris Ryan - Lucentio
Ron Schneider - Vincentio
Seth Wallen - Biondello

 

PRODUCTION
Kat Conley - Scenic Designer
Denise R. Warner - Costume Designer
Mary Heffernan - Lighting Designer
Britt Sandusky - Sound Designer

 

SHOWINGS

Performances will take place from September 11 - October 6, every day of the week except Mondays and Tuesdays. It will be at 7 pm Wednesday - Saturday, and a 2 pm matinee will be on Sundays.

Thirty minutes before each show, the audience can enjoy an introduction given by an Orlando Shakespeare Theatre actor explaining the themes and characters of the show.

Immediately following the opening night performance, there will be an after party with the cast, crew, and staff. No RSVP is necessary - just your admission ticket to the show!

 

PERFORMANCE SPECIALS AND DISCOUNTS

Preview Dates: Sep. 11, 12 - 7:30 pm
Opening Date: Sep. 13 - 7:30 pm
Senior Matinees: Sep. 18, 25 - 2 pm
$20 Under 30: Sep. 20 - 7:30 pm
After Show Q&A: Sep. 26 - 7 pm
Playshop: Sep. 29 - 2 pm

Playshop allows adults to enjoy a performance of Taming of the Shrew while children ages 5 - 12 participate in a camp with crafts, games, and other fun activities on site. $15 per child.

A 20% discount is given to groups of 10 or more. Students also receive a ticket price of $12 thirty minutes prior to a performance w/ valid student ID, and military and students get $10 off single ticket prices.

The Orlando Shakespeare Theatre is honoring their 25th Anniversary on September 25th by letting guests purchase a ticket for any price they choose. Sold on a first come, firt serve basis at the Box Office on the day of the performance until the seats sell out. Limit of 2 tickets per person.

 

This show contains sexual innuendo and parental discretion is advised. May be suitable for teenages able to handle the suggestive material.

Taming of the Shrew will be playing in the Margeson Theater at the John and Rita Lowndes Shakespeare Center in Loch Haven Park. For more info on the theatre and group, check out their profile page.
Upcoming Events
that also might interest you