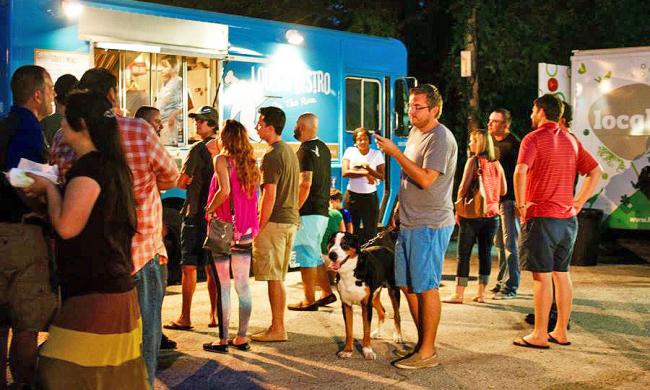 Tasty Tuesdays
Every Tuesday, 6:30 pm - 10 pm
2424 East Robinson St, Orlando, FL, 32803
Come out to Tasty Tuesdays in the Milk District featuring local food trucks and plenty of local community. Pets and families are welcome to come enjoy a variety of tastes. Trucks change on a regular basis so you never know what you're going to get. Regular features are vegetarian options and American gastropub plates. Bring a chair, or order drinks at the nearby bars and enjoy your meals there.

A solid rotation of 12 trucks convene for Tasty Tuesday, with over 30 food trucks each month. While trucks serve food at the weekly meet up, The Milk Bar, Spacebar, Sandwich Bar, and Etoile Boutique all open their doors to guests at the event. Around 1,000 foodies attend each week either visiting the bars and enjoying meals outside on the curb.

Trucks convene rain or shine, so bring an umbrella if the weather is bad or enjoy the indoor seating. Visitors are encouraged to grab plates from multiple trucks and give everything a try. Share amongst friends and family to get a taste of all the different culinary options offered.

Tasty Tuesdays are located in the Milk District. Trucks are parked in the back lots of 2424-2432 E. Robinson Street between Bumby & Primrose.
Upcoming Events
that also might interest you