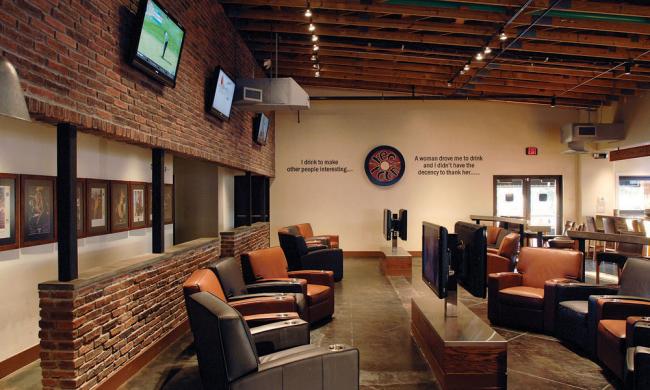 Watch the Super Bowl @ Brick House
next to Joe's Crab Shack.
8440 International Dr., Orlando, FL, 32819
If you're a local or visitor in Orlando and you're looking for places to watch the 2014 NFL Super Bowl, then check out the amenities at Brick House Tavern & Tap.

Brick House Tavern and Tap serves as a mouthwatering getaway for friends and neighbors. Classic American dishes are served with an array of over 80 beers and brews. Kick back in a leather recliner and watch the Super Bowl game on one of their 30 HD TVs, or order a beer bong to share with a group of fans. You'll receive friendly service from the Brick House girls who are ready to suggest a drink or dish to try.

Some of their popular menu items include their Chicken and Waffles made with crispy chicken tenders, Belgian waffles, all topped off with warm syrup. Order the Kobe Burger, made with a Wagyu beef patty, brie mix, sauteed onions, roasted tomatoes, roasted red pepper aioli and spring mix - all on a brioche bun.

Brick House Tavern & Tap on I-Drive even has a group menu with shareable foods and appetizers. Seated Dinner, Casual Buffet & Traveling Trays can accommodate any size party for any occasion. Brick House of Orlando offers free wi-fi and discount on host's food (for 25+ guests). The restaurant has no minimum guest requirement. To schedule a private event for the Super Bowl, just give them a call or speak to a manager.

Watch the Super Bowl @ Brick House Tavern & Tap. For more info on this restaurant and bar, view their profile page.

For more ways to celebrate the Super Bowl in Orlando, click here.
Upcoming Events
that also might interest you