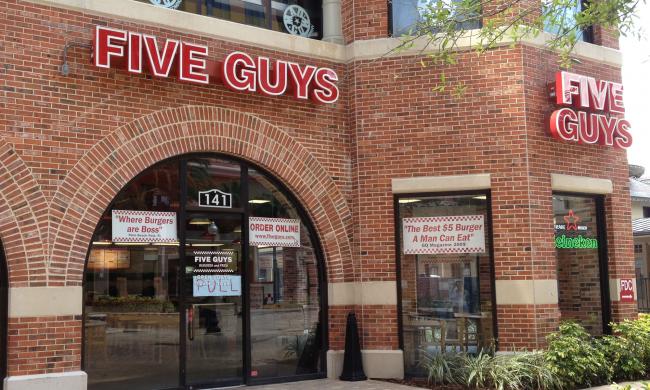 Five Guys Burgers & Fries - W. Church St.
55 W. Church St., Unit 141, Orlando, FL, 32801
Hours
of Operation
Sun - Sat:
11:00 am - 10:00 pm

Profile

Overview

With over 250,000 ways to create a burger and toppings for no additional charge at this restaurant, it's no wonder they're so popular. Five Guys began in Arlington, Virginia, in 1986, and now they have over 1,000 locations nationwide.

None of their food is frozen, and their beef is trans-fat free. These use peanut oil to cook their food and their French fries are fresh-cut. They serve hotdogs as well, and everything can be washed down with your choice of fountain drink, tea, or beer (for those 21 and up).

Their burgers and fries have won numerous accolades and food awards from around the country, and you can read about each of them from the articles dispalyed on the restaurant walls.

The service is quick and you can take-out or dine-in. Outdoor seating is available to those who want to enjoy the downtown scenery.

Five Guys is located on West Church Street in the Church Street Market next to Amura.

Upcoming Events

at Five Guys Burgers & Fries - W. Church St.