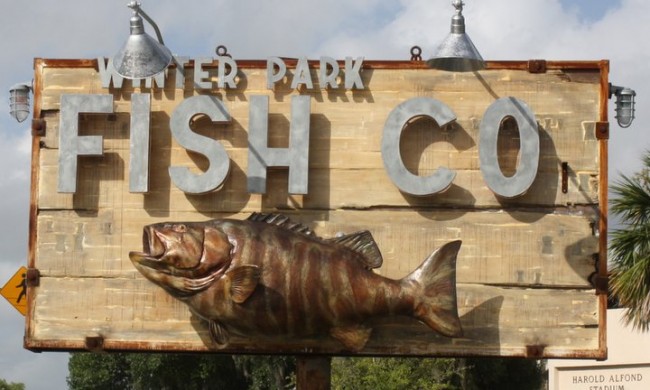 The Winter Park Fish Co.
Where North Orange Avenue and Capen Avenue meet.
761 N. Orange Ave, Winter Park, FL, 32789
Hours
of Operation
Sun:
Closed

Mon - Sat:
11:00 am - 10:00 pm

Profile

Overview

The Winter Park Fish Co. is a seafood restaurant in Winter Park, Florida. The restaurant serves fresh, local catch including Florida wildlife like grouper, snapper, Bluenose Bass, and trigger. They also have South American favorites like Ecuadorian Mahi, Costa Rican Swordfish, and Costa Rican Ahi Tuna.Guests can try fish from afar with Spanish Mackerel, Canadian Salmon, and Idaho Trout. Fish filets are prepared how you like them: grilled, blackened, pan seared, fried, Cajun, lemon pepper, or jerked.

Along with their 6 - 7 ounce filets, the menu has a variety of seafood entrees. Winter Park Fish Co. has fried favorites like Honey Buttermilk Fried Chicken, Classic Fish and Chips, and Buttermilk Fried Shrimp. The menu also has fish sandwiches, fish tacos, wraps, stews, and salads. Guests will be impressed with their selection of sides including mango cole slaw, sugared hush puppies, coconut rice, lobster mac n' cheese, bacon cheddar biscuits, and more.

The ambiance of Winter Park Fish Co. is reminiscent of the fish houses in the Florida Keys and the lobster shacks dotting the New England coast. It's casual and relaxed with wood tables handmade in Central Florida with wood taken from the St. Johns River after Hurricane Charley, and round tables with mosaics reflecting local charm.

The restaurant prides itself on using sustainable fishing practices, including operating their own well-managed seafood facilities, and promoting and selling the products of well managed fisheries.

If you're a fan of Winter Park Fish Co. and you want to bring their expertise to your next special event or office luncheon, catering services are available.

Winter Park Fish Co. is located in Winter Park where North Orange Avenue and Capen Avenue meet.

Upcoming Events

at The Winter Park Fish Co.