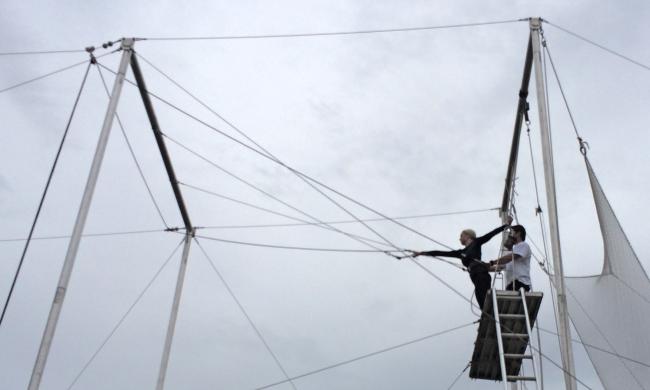 Come Fly With Me!
Have you ever seen or heard of the Trapeze Federation and thought about taking a lesson? DO IT! Oh my goodness I can not even begin to tell you how much fun it is! Yeah yeah yeah, it was also a good workout and all that, but seriously, it is officially on my top five list of most fun and unique things to do in Orlando. Even if you're deathly afraid of heights, I implore you to give it a chance!

But I'm getting ahead of myself. It all started on a grey, drizzly Friday afternoon, when I thought I'd have to reschedule my lesson for the second time. But the gods obviously wanted me to learn how to back-flip off a trapeze, because the rain subsided (for the most part), and the lesson was a go!

My TodaysOrlando.com teammate Jessica accompanied me, and our lesson was held at their location near the intersection of Kirkman Road and International Drive. But Trapeze Federation is moving in a week, so don't go there! They of course provide all the gear — the big bouncy net, harnesses, safety lines — all that good stuff. You spend the beginning portion of the class learning the basics on the ground. Easy peasy.

Jess and I were apparently quick studies, because, oh, five minutes later it was time to walk up the skinny, skinny, tall, tall ladder to the platform for my first swing. (Of course Jess made me go first. Chicken. hee hee.)

It's very disconcerting to hang over a super high platform with an instructor holding on to your harness, and that's the only thing keeping you from plunging face first into a net. But it's OK! The instructors were awesome and made us feel really comfortable and safe. So I was 98.43% OK just dangling over the ledge reeeeaaaaaching for the trapeze bar.

 


The Trapeze Federation is seriously one of the most random, unique, fun things we've done in Orlando!

 

The first swing is just an easy back and forth, and then you let go. No biggie; I can do that. But you just get one practice — the very next swing you're hooking your legs on the bar and attempting a back-flip dismount into the net. Not gonna lie, my back-flip was pretty spot on. But Jess kicked my butt in the leg-hooking department.

After a couple of those, it was time to move on to a release move. The whole time I was thinking, "This is just our first lesson! Holy crap! By lesson three you could try out for Cirque du Soleil!?"

The release move is similar to the other swings — hook your legs over the bar, but instead of back-flipping off, you reach for the instructor Efe (who is upside-down on a bar across from you), and he grabs your arms, and then you let go of the bar with your legs. Insanely fun and not that difficult! Mostly because Efe is really ridiculously good at what he does. But I like to think maybe some of it was me??

Seriously, it was an incredibly awesome couple of hours! Efe is a fabulous instructor, and everyone else with Trapeze Federation was so so great. Kids and adults alike will love this class. Oh — and it was the lesson that kept on giving. We were insanely sore for days afterward. Days!

Jess and I already talking about going back. You can purchase individual lessons, or there's packages with unlimited classes or groups of classes. They also host parties. And, like I said, they're moving locations, so starting Dec. 16, 2013, lessons will be held at Fun Spot off International Drive. So awesome.

In conclusion, DO IT! It is one of the most unique, fun things to do in Orlando, and in the end you get some really awesome videos flipping off a trapeze. Ohmygoodness ohmygoodness I can't wait to see what we learn at lesson No. 2!

 

I worked up an appetite!

Luckily for you, you're right on International Drive, and you could walk to 20 different eateries. Enjoy!

Pio-Pio is just across the street and is a local favorite. It has awesome Latin American cuisine.

Who doesn't love the iconic T.G.I. Friday's? It has Jack Daniels burgers, ribs and chicken, and a huge drink menu to still your still-shaking nerves.

Maybe you don't want to get out of your car because you're still recovering from the back-flip? Maybe you love roller skates? Either way, Sonic is just down the street, and it has awesome hot dogs.