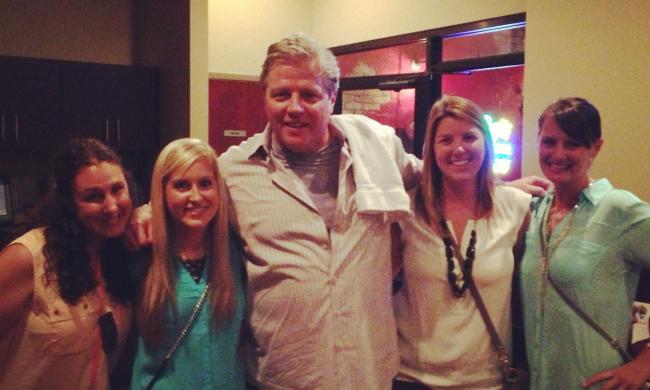 An Evening with Biff, Griff & Mad Dog
I'm a trivia buff. I love random facts. And if there's one city in the U.S. where obscure knowledge of unimportant things can garner you some free stuff, it's Orlando. I hypothesize that in the Greater Orlando area it is possible to find at least one, if not two or three, Trivia Nights every single night. It's just one of those staple things to do at an Orlando restaurant.

One evening, while meeting friends for dinner at a new Italian place, Piazza Rialto, we happened to stumble upon a trivia competition. My girlfriends weren't eager to play; however, I never turn down an opportunity to learn random info. Well, wouldn't you know, I placed second that evening. My prize? Twelve (12!) free tickets to see Tom Wilson at The Orlando Improv Comedy Theater & Restaurant at Pointe Orlando on International Drive (cue "Huh? Who?" face).

Allow me to explain my glee at securing these tickets. Back to the Future I-III über-bully Biff Tannen. Griff Tannen. Young Biff. Old Biff. Buford "Mad Dog" Tannen — that's Tom Wilson. Sure, on IMDB he has 110+ other credits as an actor, but let's focus on what's important. Biff was visiting Orlando, performing at a premier Orlando attraction, and my friends and I were going to be there.

The Orlando Improv is on the second floor of Pointe Orlando, conveniently located adjacent to the parking garage. Our group was immediately seated and ordered food and drinks from the surprisingly impressive menu. The venue is large enough to fit a decent amount of guests, but small enough to still feel slightly intimate and that there's a possibility you could be seen from the stage and made fun of. No one was safe.

The first of two openers was comical. Not pee-your-pants funny, but he got some hearty chuckles from the crowd. Opener No. 2 was great. Good-enough-to-tour-and-have-his-own-show great. His name was Ben Moore, and if you like stand-up comedy, I highly recommend you check him out (www.facebook.com/benmooreofcomedy). Alrighty, time for the main event!

Don't call him Biff. Dear lord, whatever you do, DO NOT call him Biff. It seems this is a pet peeve of his. Apparently he doesn't want to spend the rest of his life being called Biff or Mad Dog and asked to knock on people's heads while yelling "Hello? Hello? Anybody home? Think, McFly! Think!" Who would have thought?

After making this abundantly, positively, crystal clear, the comedian named Tom and only Tom drove his point home by singing a little number he wrote, titled Biff's Question Song. He humorously and in less than two minutes answered all the typical BTTF questions a DeLorean/Doc Brown/Marty fan could have.

With that thoroughly covered, Tom continued on his merry way with a show that was uniquely his, BTTF-free, and impressively funny. Combining traditional stand-up with singing, guitar and a harmonica, Tom covered everything from social media to growing old to reality TV and raising his daughters. He really seemed like a super normal, nice guy. You can almost pretend he isn't Biff. Almost.

After the show, he posed for photos and signed autographs. You would think the couple wearing matching BTTF shirts who asked him to sign their DVD collection and posters would feel slightly awkward. Especially when they asked him to start quoting the movies. But no. Not a hint of awkwardness. Maybe they missed the opening number?

 


Tom Wilson, who starred in the Back to the Future trilogy, shows he's no one-trick pony at his stand-up performance at The Orlando Improv.

 

Tom Wilson is just one of many international names who have performed at The Orlando Improv. If you haven't seen a show there, you're missing out. Check the schedule, do some Googling on the upcoming performers, and add this venue to your list of things to do in Orlando. (www.theimprovorlando.com)

Oh – and I forgot to mention that at the end of each show they hold a drawing for four free tickets to see a future show. Guess who won?! Oh yes, me! So I'll be back … in time.

 

Before or after the show ...

Pointe Oralndo offers nuemrous restaurants and bars at which one can grab a bite to eat or refreshing beverage. From easy-going to elegent, there's a place for every style and budget. 

The Pub boasts two "pour-you-own-beer" walls, where guests can select a taste or a tall glass as they serve themselves. And with your handy The Pub card you pay per ounce, so feel free to get adventurous.

Adobe Gila's offers appetizing Southwest dishes, including fajitias, nachos and enchiladas, as well as traditional American fare. Oh, and of course lots of beer.

B.B. King's Restuarant & Blues Club serves soul food and good times, with live performances on the main stage and New Orleans decor and flare throughout the venue.

The Capital Grille is the place to go for perfectly dry aged steaks, an impressive wine list, and first-class service. Sides are a la carte and a la amazing.