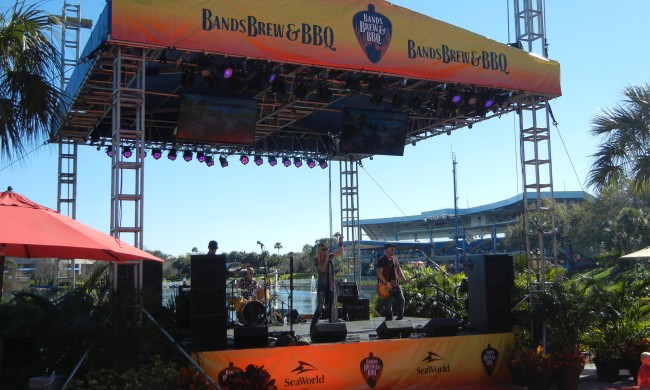 Bands, Brew & BBQ is Still Rockin'
While trying to successfully navigate rough waters, SeaWorld Orlando kicked off their annual Bands, Brew & BBQ event without a hitch. Known for rocking the boat himself, Kid Rock helped start the festivities this year along with country singer, Alan Jackson. On Saturday, February 1st, Jackson proved that it actually was "5 O'Clock Somewhere" during his packed 5 pm concert. The next day, Rock hit the stage on Super Bowl Sunday, just a few hours before the Big Game. Talk about an awesome tailgate party ... and what tailgate party is complete without some Brew?

As the former home to The Budweiser Clydesdales, SeaWorld's history is steeped in the rich, foamy ale. On tap at this year's festival are over 30 domestic and imported beers. For $24, guests can purchase the Craft Brew Sampler Pass and get 10 samples of such popular beers as Magic Hat #9, Vermont Hard Cider Granny Smith, Sweetwater 420 or Guinness, among others. I spent my time slowly walking between the Guinness and the Granny Smith booths while cautiously sheltering my brews out of fear of spillage. You see, I enjoy the dark Irish stout while my wife fancies the Woodchuck cider. With so many options, it's difficult to choose. All we ask is that you please know what you want by the time you get to the front of the line!

Fair Warning: The event gets busy, so the lines may run long. My advice; grab a beer and enjoy it and the music while waiting in line for some delicious barbecue. Then (if you can multitask) enjoy your BBQ while you wait in line for your second round of beer! You're welcome. In addition to SeaWorld's own Sweet and Saucy BBQ dining specialties, guests can enjoy mouth-watering local Orlando favorites; Sonny's BBQ, Bubbalou's Bodacious BBQ, and Cecil's Texas Style Bar-B-Q. Cecil's was my personal favorite. Their delicious pulled pork covered in their signature sweet BBQ sauce in between two slices of tasty garlic Texas toast was incredible!

The pulled porks were not the only hogs in attendance as Orlando Harley-Davidson brought some of their beautiful 2014 motorcycles to display at the event. The festival also is fun for the kids. With costumed characters, coloring stations and the permanent awesomeness of Shamu's Happy Harbor, children of all ages will have a blast dancing and singing along as great music fills the park!

This year, SeaWorld is holding their cards close-to-the-vest regarding concert lineup information for the event. In a clever strategic move, the Orlando theme park has decided to wait until the week of each performance to reveal the event's scheduled acts. In doing so, SeaWorld has been able to book and retain such popular acts as Sister Hazel, Gretchen Wilson and comedians Bill Engvall and Larry the Cable Guy. I witnessed Larry the Cable Guy "Get-R-Done" on stage in front of a packed Bayside Stadium. His good ol' boy jokes (mostly about poop) were quick and hilarious. Although, the addition of comedians to this year's festival doesn't exactly mesh with the event's title, the Blue Collar Comedians provided a big draw to the theme park.

Not only has SeaWorld been breaking attendance records in recent weeks, but they are also gaining more and more new fans every day. If there was any controversy surrounding the park, it went unnoticed. During my recent visit to SeaWorld Orlando, I witnessed a large gathering of overwhelmingly positive, open-minded and hospitable people – the combination of which doesn't often exist at a crowded theme park. The place was packed full of people who wanted to be there, and not just for the music, beer and ribs. They showed up in droves because they chose to focus on all the good that SeaWorld has contributed to the world of wildlife rescue and conservation. Everyone in attendance came looking for a good time, but found a great one instead.

There is no denying that Bands, Brew & BBQ is one of the best outdoor festivals that Orlando has to offer. I had a blast, so do yourself a favor and don't miss out on this awesome event!

Concerts and performances are held at the park's Bayside Stadium and are included with regular park admission. Bands, Brew & BBQ runs weekends through March 9.

 

Hungry for More?

If you're still in the mood to feast and party after experiencing Bands, Brew & BBQ, you can head over to these locations on nearby International Drive for some additional good times.

Not a fan of barbecue? Then save your appetite for Lighthouse Lobster Feast and enjoy their all-you-can-eat lobster and seafood buffet.

At Señor Frog's, the bar is always open with plenty of TVs to catch a game, as well as prizes, contests, conga lines, and a live band.

Two doors down, Howl at the Moon will keep the party going all night with drink specials and rocking piano medleys well into moonlit hours.