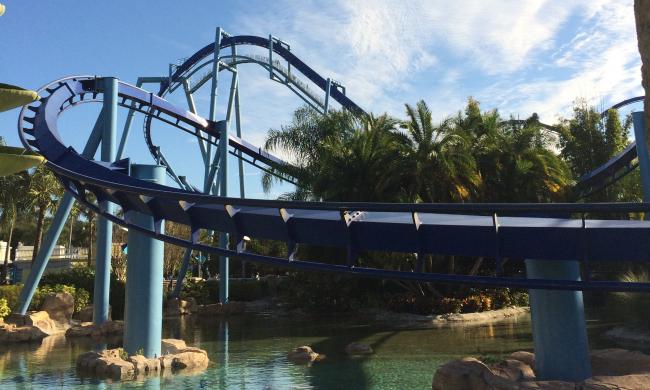 Don't you wanta wanta Manta?!
One very sunny day in Orlando, Jessica and I ventured to SeaWorld Orlando with one goal in mind — ride Manta. You may be wondering, is the cost of a one-day admission worth just one ride on one roller coaster? Yes, my friends. Yes it is.

Manta is literally one-of-a-kind. It's the only roller coaster in the whole wide world where riders strap in, and then are turned head-first, face-down into an inverted nosedive — before you even take off. Insane. You're "gliding" at incredible speeds as you fly over the park one of the absolute smoothest tracks ever. Ever. And the whole time you're still face-down.

If you're making a list of things to do in Orlando, I promise this roller coaster needs to be on it. It was absolutely incredible.

Yeah yeah yeah, there's lots of other things to do at the park. I still love the Wild Arctic Ride — a simulated helicopter ride that takes you from Orlando to Base Station Wild Arctic, where you meet (in person!) beluga whales, a polar bear and walrus. If you really want a once-in-a-lifetime experience, SeaWorld offers a Beluga Interaction Program, where you can dip your feet in the 50-degree water and pet and play with the beyond adorable beluga whales.

Speaking of freezing water, did you know the dolphin feeding/viewing area is a splash zone?! Well, we certainly did not. Jess and I were innocently watching the graceful dolphins frolic through the water, when one elegantly leapt from the tank, executed a perfect spin move, and landing directly in front of us, soaking us completely! We'd been at the park 15 minutes. Welcome to SeaWorld.

Typical Florida, it started raining around 2:30, but just a quick, 30-minute afternoon shower. Did wonders for poncho sales though, let me tell you. During the storm we popped into the Nautilus Theater just in time for A'Lure, The Call of the Ocean. Think Cirque du Soleil, but on a smaller scale. If you've ever been to La Nouba at Downtown Disney, then you have to remember the adorable little girls who throw the spools in the air. Well A'Lure has those ladies all grown up!

Two other insider tips, and then I'll let you get back to Candy Crush. 1. Find Bella. One of the absolute coolest things we witnessed was Bella the opossum going for her daily walk with her main handler. Stop saying "Ewwwwww." Bella was clean and sweet and hospitable and as adorable as can be. She imprinted on humans when she was a baby baby, so Florida Fish & Wildlife deemed her unable to return to the wild. They reached out to SeaWorld to hopefully offer her a permanent home. Bella is 3 years old and has already lived double the life expectancy of an opossum in the wild. Each day she takes a 45-minute walk with her handler. Gotta keep fit, ya know.

2. It's kinda pricey, but Sharks Underwater Grill is like nothing else you'll find in Orlando or probably anywhere. One wall of the dining room is a ginormous shark tank, with hundreds of sharks, fish, rays, all those sweet and cuddly guys. It's actually the Shark Encounter exhibit, and you're seeing it from the other side. So. Cool. I'm obbbbbsessed with sharks, so of course I insisted on eating there. Once upon a time, what feels like eons ago, I had the insane privilege to zip into a wet suit and get into that very tank for a visit with the sharks. SeaWorld doesn't offer that experience anymore, but wow, I will never forget how incredible it was to be within petting distance of those magnificent (well-fed) creatures.

 


You must dine at Sharks Underwater Grill! Look at the cuties you get to a share a meal with! I mean, not that you're sharing food with them, but you're sharing a room with them while you ... you know what I mean.

 

And there you have it. My favorites from our quick trip to SeaWorld Orlando. Which isn't just an Orlando theme park, but a 24-hour/365-days-a-year rescue and rehab for wild animals all over the world. To date, SeaWorld has rescued more than 20,000 ill, injured or orphaned animals. Makes you feel a little bit better about spending $20 on a plush sea turtle when some of that $$$ is going to a real sea turtle who lost one of her flippers after a shark attack off the coast of Bermuda. Awwww. She was still such a sweetie!

 

Cocktail, anyone?

The park closes, you've had dinner (or maybe you haven't), and now it's time for a refreshing beverages. SeaWorld is conveniently located off International Drive, so just down the street is Pointe Orlando, which has plenty of food and drink options ...

Funky Monkey Wine Co. serves plenty of, well, wine. It also has some great sushi.

The Pub has pour-your-own-beer walls, where you just pay per ounce. The British-themed restaurant and bar is huge, and also has a pretty good menu.

Marlow's Tavern is a classic American tavern that's all about good food and great drinks, made with local, fresh and season ingredients.