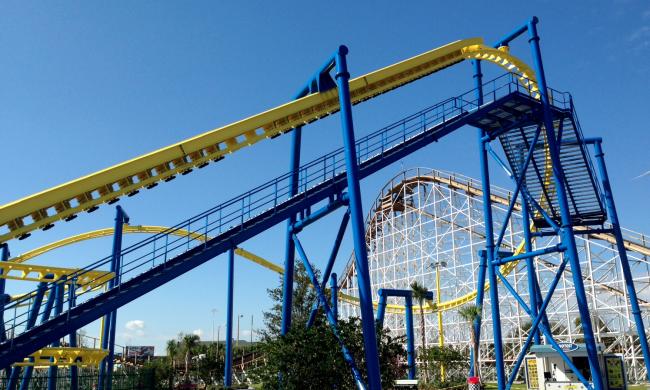 Just For Fun
"Not competition, but a compliment" to the gigundo theme parks. I think that's such a cool and really accurate way of describing Fun Spot America. Located just off International Drive, it's got roller coasters and rides, just like the major theme parks, but it doesn't have the lines or insanely long walk from the parking lot.

You've seen the commercials. Come onnnnnn. Everyone has seen the commercials. And if those aren't enough to peak your interest, how about the fact that Fun Spot recently expanded and is now a whole lot more than a really cool go-kart place.

 


It's definitely easy to spend the better part of a day at Fun Spot. There's rides, roller coasters, go-karts, an arcade, more go-karts ...

 

My TodaysOrlando.com teammate Jessica and I crossed Fun Spot off our "things to do in Orlando" list on a weekday at noon, and since it's the off season, we were able to experience the whole park in a few hours. But really, with four go-kart tracks you could easily be there all day. They're multilevel, and obviously every trip around the track is different and you're racing different people, so you could easily get sucked into that and never even realize there's a whole lot more to do than just kick people's butts at driving go-karts. But we weren't there for just the go-karts; we wanted to ride everything. So we did. We rode the carousel, ferris wheel, all the carnival-style rides — the Enterprise being my hands-down favorite — and, of course, the roller coasters.

 

The Enterprise uses G-force to keep you in your little cage as you spin around and the ride raises up. Soooo. Much. Funnnnnnn.

 

Fun Spot is home to Orlando's only wooden rollercoaster, and let me tell you it's a good one. White Lightning was so much faster than I thought it would be, and we absolutely loved it!

In addition to all the grown-up rides, Fun Spot has a children's area with rides for the little ones, and a pretty cool café/restaurant with lots of food options, soda, and beer and wine. At night there's even happy hour!

But one of the things that's really cool about Fun Spot is that admission is free; you just have to pay for an armband that gets scanned on each ride. So grandma or your friend who's petrified of heights and G-forces can still come to the park and hang out, and they don't have to pay for anything. You can also leave the park at any time and come back that same day — you just have to make sure to leave your wristband on.

Like I said, Fun Spot isn't meant to be a competitor for Disney and Universal, but whether you're a local or visiting Orlando, it's definitely a place you want to check out, at the very least for comparison purposes. It doesn't have 75 rides strategically organized by island or –land names, but it does have more than enough rides to keep you super entertained for the better part of the day, and for a lot less money. And seriously you have to try that wooden roller coaster. At one point you're hanging at a 90 degree angle! And the Enterprise?! Did you see the pic?! Tell me you don't want to experience that. And the view from the ferris wheel? And the go-kart track that's four levels?! I mean, I know it's in the name and all, but this place is fun!