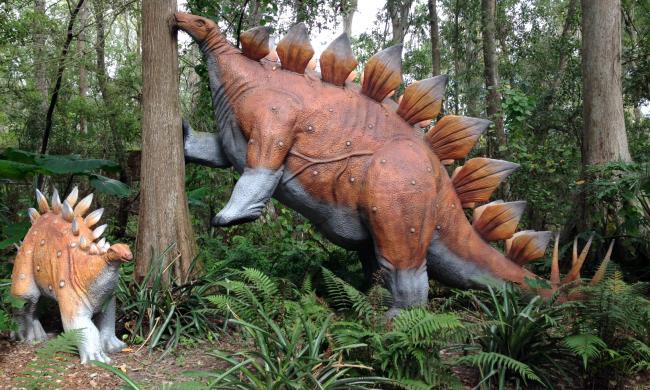 Why can't you hear a pterodactyl go to the bathroom? Because the p is silent.
I love wine, and I love dinosaurs. Therefore, I love the little slice of heaven that's Exit 17 on Interstate 4. This little piece of paradise is home to Dinosaur World and Keel & Curley Winery. I know I usually focus on things to do in Orlando that are actually in Orlando, but depending on traffic and weather conditions (God forbid it's raining because everyone turns into 15-year-olds with brand-new permits), it takes the same amount of time to get to Exit 17 as it does to drive from Disney to downtown. So I think we can cheat and consider Dino World and the winery within the category of local things to do. Agreed? Agreed.

Dinosaur World is technically in Plant City, and all of its wonderfulness can easily be experienced in a few hours, leaving you with a free afternoon that's just asking to be filled with a trip to … say … a winery? But first, dinosaurs!

Dinosaur World is fun and educational — you walk through acres of foliage, which are home to 150+ life-size recreations of dinosaurs. Well, technically they're scientists best guesses as to what dinosaurs looked like. I've always wondered, how do they know what colors they were?! How?!

Each dino has an informational sign that tells you the extinct creature's name, when it was alive on Earth, if it's technically a dinosaur (for example, marine and flying reptiles don't qualify), and where its fossils have been found. We're constantly learning more about these fascinating creatures, so of course some of the signs have erroneous info, but the park does its best to update signs with the latest discoveries.

And the park doesn't sugarcoat the violence that took place during the Triassic, Jurassic and Cretaceous periods. Our group enjoyed a lovely meander down the Carnivore Boardwalk, where there's some very lifelike, gruesome depictions of dinos chowing down on other dinos. Awesomely picture-worthy when you're an adult; kinda nightmare-inducing for young children. We, of course, ate it up.

 


Some dinosaurs are super sweet and cuddly, like my favorite, the stegosaurus (bottom, right). Others, like the ones featured on the Carnivore Boardwalk, may not be suitable for the bright, animal-loving eyes of children.

 

We were strongly advised not to miss the show at the new Exploration Cave, which is all about being a paleontologist and how fossils are formed, discovered, transported and studied. Sounds super interesting, right?! Ummmm awkward.  If you're with children, I bet it would be fun! But three adults at a show with humor geared toward young kids was a little too one-on-one for us and the "paleontologist."

But you really do have to visit the indoor museum that has lots of real fossils and animatronic dinosaurs that come to "life." Definitely check that out!

Once our brains were bursting with all of our really cool dinosaur knowledge, it was time to discuss our favorite dinosaurs (stegosaurus rule!) over a fresh glass of blueberry wine. How convenient that down the street is Keel & Curley, which is known for its blueberry wine! Just $6 gets you a tasting where you can sample a dozen wines, including blueberry, tangerine, key lime, blackberry, strawberry, grape blends and more. If wine isn't your thing, there's also a bar with beer on tap and in the bottle. Dinosaurs, refreshing wine and/or beer?! Like I said. A little slice of have-fun heaven.

 

I have a dino-sized appetite!

On your way home from Plant City, stop by a convenient Lake Buena Vista restaurant:

Raglan Road Irish Pub & Restaurant is at Downtown Disney and serves authentic Irish cuisine. It's also a great little Irish pub and has live entertainment.

Denny's is open 24 hours and serves all your favorites all day, so it doesn't matter what time you get done at the winery.

If you're looking for something real quick, Firehouse Subs serves steamed subs with large portions of meat and cheese.