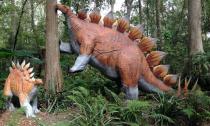 Why can't you hear a pterodactyl go to the bathroom? Because the p is silent.
Written November 26th, 2013 by
Diana Mainieri
It only takes a little more than an hour to travel back in time and meet 150 dinosaurs. And by "back in time" I mean via I4, and by "meet" I mean look at life-size statues. Still. So. Cool.