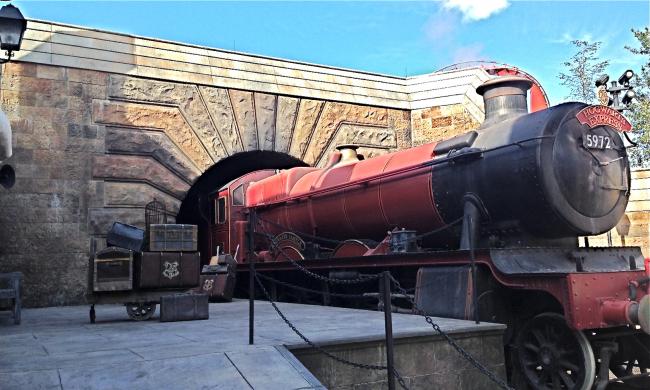 Universally Appealing
We all knew this day would come. In my quest to tackle everything there is to do in Orlando, I would eventually make my way to one of the Orlando greats — one of the major theme parks that draws millions of visitors to our city every year. The day finally came, and Jessica and I visited Universal Orlando Resort, home to Universal Studios Florida and Islands of Adventure.

It had been years and years since I visited Universal Studios. After working there when I was in high school and college, the novelty kinda wore off. Sad, right? But this was a new Universal Studios! Gone were Jaws and King Kong (the two rides I had worked at), and now there were rides and shows for blockbusters Transformers, The Mummy, Shrek, Despicable Me and the TV show The Simpsons. So many new and amazing things to do and so little time! And that's only one park!

Well, the theme park gods shined down on us, and when I say there were no lines, there were no lines. None! If you're contemplating a visit to an Orlando theme park, whether you're a local or tourist, I highly, highly recommend the second week of December. You'll have the place to yourself.

I could go on and on allllll day about how amazing the two parks were — there's entire websites dedicated to them for gosh sakes — but I need to squeeze our fabulous day into the rest of this teeny blog, so I'm going to focus on two main points: roller coasters and The Wizarding World of Harry Potter. Because, well, our mission at the beginning of the day was to ride and grade every roller coaster; and I, like bajillions of other people, am in love with the world of Harry Potter.

At Universal Studios, the Revenge of the Mummy coaster is indoors and really and truly transports you into the movie. It is unlike any roller coaster in Orlando, and you must experience it. There's no huge drops and you don't flip upside down, but the effects are incredible. Absolutely loved it!

On the flip side you have the Hollywood Rip Ride Rockit (you remember — the one that got stuck), which takes you up at a 90-degree angle, 17 stories high, and up to 65 mph. It's not for the faint of heart, but if you like roller coasters, this one is pretty incredible. And hey, you get to pick what song you listen to for the lengthy ride!

Side note: It's not a roller coaster, but you must ride Transformers: The Ride-3D. You must!

We rode ... well ... every other ride at Universal Studios (the no lines thing was awesome!), and headed over to Islands of Adventure.

 


At Islands of Adventure, we rode Cat in the Hat, met the Whos in Whoville, rode The Incredible Hulk, and visited The Lost Continent!

 

You have to start your visit to IOA with the 2-minute 15-second The Incredible Hulk Coaster. No big drop on this one, because it shoots you out at some insane speed, and then you're off, hitting up to 67 mph. Word of advice, keep your head back, because otherwise it's getting banged against your bulky shoulder restraint. I gave it a Love it! and went on it twice. Jess gave it a Like it!, please don't make me go again.

Dragon Challenge at the Wizarding World of Harry Potter (yay!) is the former Dueling Dragons. You have your choice of the Chinese Fireball or Hungarian Horntail coaster. We of course tried both (no lines!). The red Chinese Fireball is definitely inferior to the blue Hungarian Horntail. Both are great! But if you're visiting in July and the line is 90 minutes, I highly recommend you choose the blue side. Jess and I unanimously agreed the blue Hungarian Horntail was the clear winner.

Now that we're at the Wizarding World, allow me to elaborate on how amazing it is. It is seriously straight from the book. Down to every detail, everything is just as described. You can walk the streets of Hogsmeade and visit the Hogwarts castle as you wait in line for Harry Potter and the Forbidden Journey. Never before have I seen such an amazing queue line! You can visit Olivander's wand shop, where the wand really does choose you — blowing wind and sounds and everything. You have to try butterbeer (frozen is better), which is impossible to describe other than to say it has a butterscotch topping that's to die for. And, pretty soon, you'll be able to ride the Hogwarts Express between Hogsmeade and "London," which will be located at Universal Studios and an extension of the Wizarding World of Harry Potter! Eeeeeeeeeeee!!!!!

 


Oh look, after having a butterbeer (and real beer) at Hog's Head, we happened to run into some wizarding students from the Durmstrang Institute and Beauxbatons Academy of Magic.

 

Also coming soon is A Celebration of Harry Potter from Jan. 24-26, 2014, which will feature visits from movie cast members, a wand masterclass, Q&A with cast members, interactive exhibits, demonstrations and more.

Seriously, I could go on and on and on about how ridiculously amazing it was to visit both parks in one day and not wait in line for a thing. Dec. 16, 2014, is officially penned into my planner as Visit Universal Orlando Resort Day. And, did you know season passes for Florida residents are fairly inexpensive when you choose the monthly payment plan? Who knew?! Merry Christmas present to me!